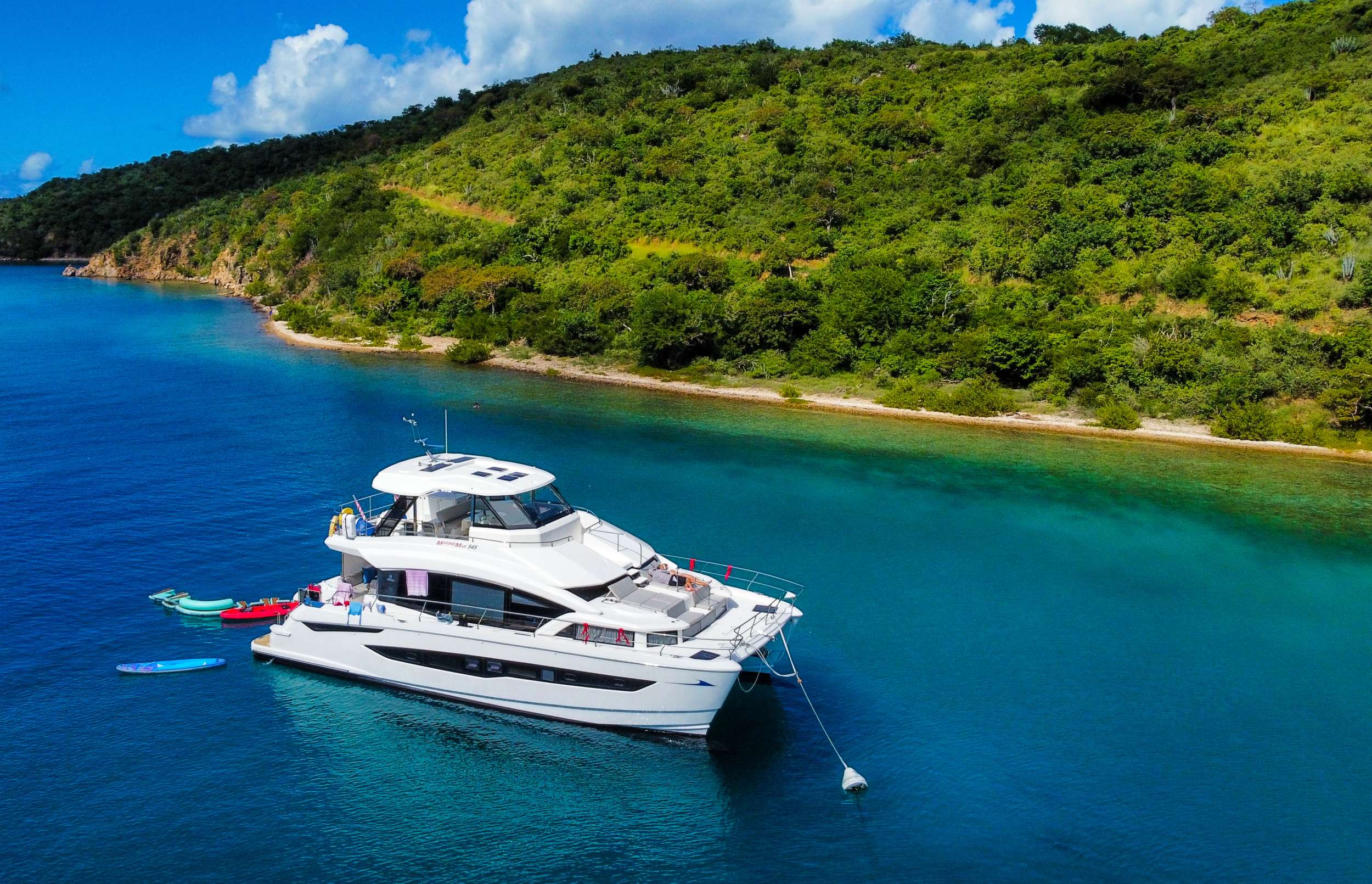 Go Team is waiting for you on clear blue seas in the beautiful British Virgin Islands.

The exquisite 54-foot Aquila Power Catamaran offers 4 spacious cabins each with private head and AC control for your guests to enjoy. 5th Cabin for crew.

As you navigate the turquoise blue waters, ask the captain to bring you to one of our secluded snorkeling spots. You will feel like you are swimming in a tropical aquarium as you experience rare and colorful sea life all around you. After your swim, head up to the huge flybridge to dry off and get an overhead view of the coral reefs that surround the island.

If relaxing is more your style, lay back on the built-in deck lounging pads or one of our floating mats. The warm island waters will not disappoint, and neither will our delicious Caribbean cocktails!
Watch the sunset as you enjoy an extraordinary meal prepared by your chef, who will happily accommodate any guests' dietary requirements. Check out our sample menu for examples of some of the delicious meals Go Team has to offer.

When the sun has set and you are ready to rest, you will feel at home in our spacious and comfortable cabins. Each cabin is equipped with storage space for your belongings and a queen bed. (King in master) The galley and salon have a contemporary configuration and an open-concept space perfect for enjoying time with friends and family. A flat screen TV is placed on the back wall for viewing pleasure in and out of the salon at the barstool seating. Wi-Fi is also included should you choose to stay connected on your dream vacation.

Other amenities include: lounging pads for sunbathing, electric grill located on the flybridge, electric winch-style dinghy lift platform, blue tooth capabilities, and sound system.

Accommodations:

Ready for your trip of a lifetime? Go Team is waiting for you on clear blue seas in the beautiful British Virgin Islands.
The exquisite 54-foot Aquila Power Catamaran offers 4 spacious cabins each with private head and AC control for your guests to enjoy. 5th Cabin for crew.
As you navigate the turquoise blue waters, ask the captain to bring you to one of our secluded snorkeling spots. You will feel like you are swimming in a tropical aquarium as you experience rare and colorful sea life all around you. After your swim, head up to the huge flybridge to dry off and get an overhead view of the coral reefs that surround the island.
If relaxing is more your style, lay back on the built-in deck lounging pads or one of our floating mats. The warm island waters will not disappoint, and neither will our delicious Caribbean cocktails!
Watch the sunset as you enjoy an extraordinary meal prepared by your chef, who will happily accommodate any guests' dietary requirements. Check out our sample menu for examples of some of the delicious meals Go Team has to offer.
When the sun has set and you are ready to rest, you will feel at home in our spacious and comfortable cabins. Each cabin is equipped with storage space for your belongings and a queen bed. (King in master) The galley and salon have a contemporary configuration and an open-concept space perfect for enjoying time with friends and family. A flat screen TV is placed on the back wall for viewing pleasure in and out of the salon at the barstool seating. Wi-Fi is also included should you choose to stay connected on your dream vacation.
Other amenities include: lounging pads for sunbathing, electric grill located on the flybridge, electric winch-style dinghy lift platform, blue tooth capabilities, and sound system.

WIFI Included