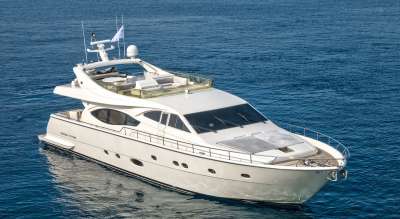 CREW PROFILES
Title
Name
Nation
Born
Licenses
Captain
Stavros Dritsas
Greek
1978
0
Number of Crew: 4
Languages: Greek and English
Crew Profiles:
Captain: Stavros Dritsas (Greek)
Stavros is 38 years old and holds a Yacht Master diploma, a Certificate in GMDSS, in Sea Survival, in Fire Fighting & First Aid! He counts years of experience in the yachting industry both in private and in charter yachts. He is patient, kind and will warmly welcome the guests onboard Amor, making sure to share his experiences with the guests! He has participated in various sailboat races and regattas in the past, and some years ago, he crossed the Atlantic Sea on a Seaton 70'! Excellent seaman with a great knowledge of the Greek islands and passion for his job! When not working, he loves cycling, sailing and spending time with his family and daughter! Speaks Greek and English.

Chef: TBA

Stewardess: Anastasia Xiraki (Greek)
Anastasia is 38 years old and she has been working both in sailing and motor yachts for many years. Since then, Anastasia followed her love for the sea. She has a friendly personality and will be delighted to welcome the guests onboard. When not working, she enjoys cooking! Speaks Greek and English.

Sailor/Deckhand: Quirino Hinayon (Philippine)
Quirino is 42 years old and has worked in the yachting industry for more than 10 years with great enthusiasm and professionalism! Quirino holds a Certificate in Fire Fighting & First Aid and the guests' safety is his top priority! He is very experienced with a kind personality and will make sure that the guests will be spoiled to the max! He is onboard with Captain Stavros for 2 years and they are a great team together! In his free time, he loves cooking, driving and singing! Speaks English and Greek.