Previously named Replica of the famous 3 masted racing schooner Atlantic

CREW PROFILES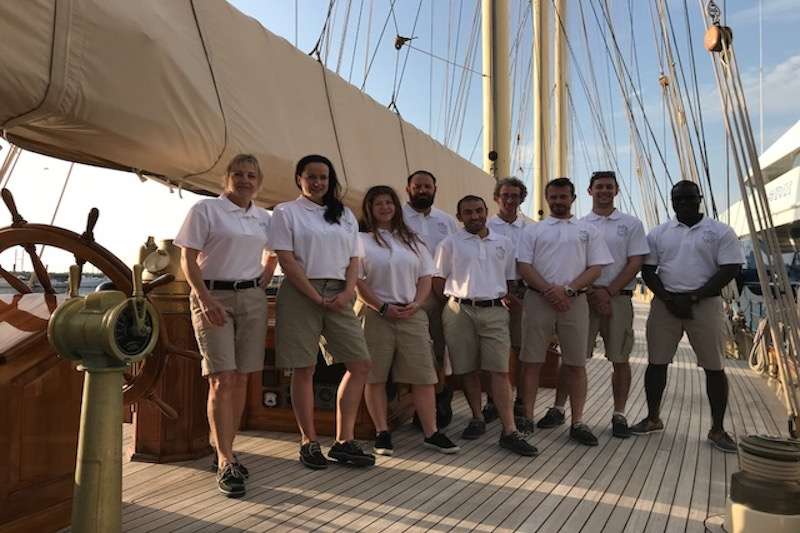 Title
Name
Nation
Born
Licenses
Captain
Lucas Zamecnik
french, speaking english
1976
full
Mate
Moctar FALL
french, speaking English
1981
full
Number of Crew: 12
Languages: French, English, dutch, Spanish, German a basic italian
Crew Profiles:
CREW PROFILE ON BOARD ATLANTIC

Captain : Lucas ZAMECNIK   age 43, French nationality. Fully bilingual, long and experience consisting of long successful careers in Merchant Marine, Offshore Racing (onboard Geronimo) and several other classic yachts. Extensive cruising and guest entertaining experience.
 
Mate :    Moctar FALL, age 40, he born in Senegal. High qualification MCA 3000 grt. Speak fully english and Spanish. 6 years experience onboard ADIX, mate on board GALILEO, South African America's Cup Challenge.

Chief Engineer : Martin CRETTE, French nationality. Also long Merchant Marine illimited experience. Fully bilingual. Previous position on board 72 M. ENIGMA XK.  4 years charter experience in Antarctica.   

Bosco : Antoine DERU, age 40. Previous fishing vessel officer lieutenant de pèche , holder of the prestigious Trophee Jules Vernes in 2004  (Geronimo).

Second Deck hand : Josselin GAUDIN,  French national, age 26. Fully qualified Capt 200. Fully bilingual. Although he is young, he already hold extensive experience. Previous yachts Germania Nova, Perini Navi, Lady Mona I and ATLANTIC in 2013.  

Third Deck hand  : Nicholas CHIRAT, French nationality. Age 28. Fully qualified Capt 200. Bilingual.
7 years experience in chartering on board Catamaran. Cadet onboard training ship Dar Mlodziezy.

Fourth Deck hand : Antonin JALIBERT, French nationality. Age 31. Spoken english. Ex National Marine specialised in security.

Head Chef : Antoine DOUAI, French national ex Merchant Marine on board Compagnie du Ponant. Antoine worked during one whole year with famous 3 stars chef Georges BLANC (3 stars Michelin). 

Second chef/purser : JACQUELINE. Dutch national. She speaks 3 languages. She has been onboard Atlantic since her launching.

Chief Stewardess : Chanel ASHLEIGH, South African nationanilty. Age 28 and 6 years charter experience on board luxury yachts.

Second Stewardess : Nicole van der HOEVEN ,Age 35. Dutch nationality. Fluently bilingual and she also speaks Spanish, German and basic french. 10 000 nautical miles. Ex hotel and Restaurant manager.

Subrequart Vessel's Doctor Pierre Michel COHATE  ex CLUB MED  ex ELEONORA and ATLANTIC.