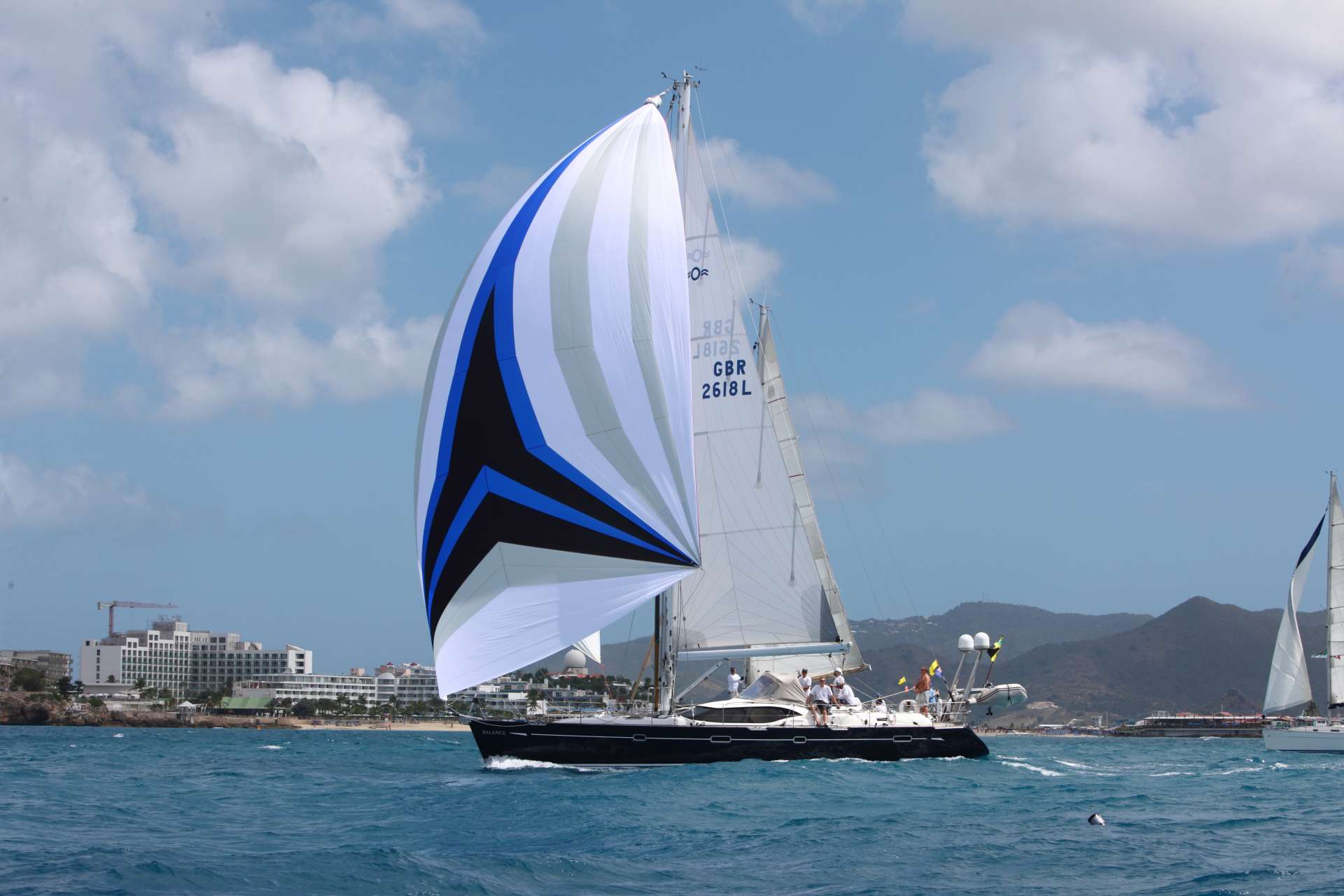 BALANCE is a modern yacht that's also practical and durable at sea. Rob Humphreys designed the Oyster 54 with a longer waterline, slightly more sail area and a lighter displacement than the Oyster 53, all of which combine to enhance her sailing performance.
From any angle, BALANCE is a stunning-looking boat, with a sleek curved deck saloon and modern rollover bulwark. She is sloop rigged with electric in-mast furling and furling headsail. A hot and cold freshwater deck shower is at the transom.
She has competed in Oyster regattas, where she has held her own against larger yachts and has been awarded first, second and third places on numerous occasions.
BALANCE has been professionally maintained throughout her life since launch in 2010, with no expense spared. The saloon, whose joinery is finished in cherry, is extremely light and airy. An L-shaped settee and dining table are to starboard and there is a settee to port.
BALANCE accommodates up to 4 guests in 2 cabins and is air conditioned throughout. The aft cabin, the owner's stateroom, features a double berth slightly offset to port with custom high-quality memory foam split mattress, and en suite head. Beneath the berth is a large drawer and further top access for storage. A settee with stowage under and a dressing table/desk are to starboard, with access to electric plug sockets underneath. Also included are a large hanging locker, beveled mirror, several other lockers and drawers.
Another spacious double cabin and en suite head is in the bow, with a centerline double berth, drawers and locker beneath. The deck is accessible via the overhead forehatch; there is also a beveled mirror and electric sockets.
On deck a fully enclosed bimini provides protection in the cockpit. The cockpit table is varnished teak with folding leaves. Deck finish is teak. BALANCE is a comfortable, much admired yacht, wherever she sails.

Accommodations:
BALANCE is a modern yacht that's also practical and durable at sea. Rob Humphreys designed the Oyster 54 with a longer waterline, slightly more sail area and a lighter displacement than the Oyster 53, all of which combine to enhance her sailing performance.
From any angle, BALANCE is a stunning-looking boat, with a sleek curved deck saloon and modern rollover bulwark. She is sloop rigged with electric in-mast furling and furling headsail. A hot and cold freshwater deck shower is at the transom.
She has competed in Oyster regattas, where she has held her own against larger yachts and has been awarded first, second and third places on numerous occasions.
BALANCE has been professionally maintained throughout her life since launch in 2010, with no expense spared. The saloon, whose joinery is finished in cherry, is extremely light and airy. An L-shaped settee and dining table are to starboard and there is a settee to port.
BALANCE accommodates up to 4 guests in 2 cabins and is air conditioned throughout. The aft cabin, the owner's stateroom, features a double berth slightly offset to port with custom high-quality memory foam split mattress, and en suite head. Beneath the berth is a large drawer and further top access for storage. A settee with stowage under and a dressing table/desk are to starboard, with access to electric plug sockets underneath. Also included are a large hanging locker, beveled mirror, several other lockers and drawers.
Another spacious double cabin and en suite head is in the bow, with a centerline double berth, drawers and locker beneath. The deck is accessible via the overhead forehatch; there is also a beveled mirror and electric sockets.
On deck a fully enclosed bimini provides protection in the cockpit. The cockpit table is varnished teak with folding leaves. Deck finish is teak. BALANCE is a comfortable, much admired yacht, wherever she sails.


BALANCE accommodates up to 4 guests in 2 cabins and is air conditioned throughout. The aft cabin, the owner's stateroom, features a double berth slightly offset to port with custom high-quality memory foam split mattress, and en suite head.

Another spacious double cabin and en suite head is in the bow, with a centerline double berth, drawers and locker beneath