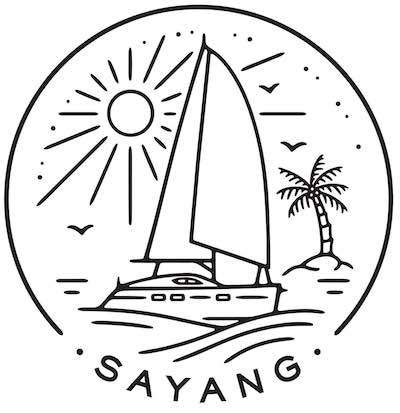 SAYANG SAMPLE MENU
A sampler from Kristyna's Galley on Sayang
Breakfast
Your choice of fruit salad, toast, pancakes, granola with yogurt or milk, oats, omelets, scrambled, sunny side up or boiled eggs, French toast, selection of pastries.
Fruit juice, French pressed coffee and teas.
Lunch
- Peruvian fish ceviche served with patacones (plantain chips) fresh salsa and guacamole.
- Mixed seafood pasta.
- Fresh tossed salad served with a balsamic reduction glazed chicken, avocado and homemade bread.
- Mariners Mussels in a creamy coconut and parmesan sauce.
- Classic Spanish tortilla with a light side salad.
- Couscous with feta cheese, spinach and asparagus wrapped in bacon.
- Creamy pumpkin soup served with fresh homemade bread.
Dinner
- Goulash served with Jasmin rice and fresh salad.
- Pan seared ribeye steak drizzled with a fresh mushroom sauce, crispy potato and coleslaw.
- Brazilian Moqueca – Fresh fish cooked in a coconut curried sauce with veg and basmati rice.
- Rack of lamb served with sauté vegetables, mashed potato and mint sauce.
- DIY Fish/Chicken tacos - to die for!!!
- Crispy fish balls served with rice and sauté vegetables accompanied by a truffle mayo.
- Sesame crusted tuna steak with a creamy lemon sauce.
Desserts
- Ice cream and hot chocolate sprinkled with sweet coconut
- Apple crisp desert with ice cream
- White chocolate mousse toped with fresh fruits
- Blueberry cheesecake
- Crème Brulé
- Homemade banana cake 
Ships Bar
Sayang has a fully stocked bar, please don't be shy to send us your special requests or favored brands so we can make sure to stock them.