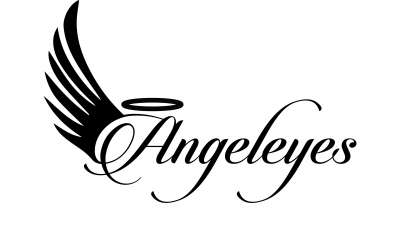 ANGELEYES GUESTS COMMENTS
Wonderful Vacation
We had a wonderful vacation in the BVI with this amazing crew on this beautiful boat. Darrel kept us safe and took us to the most beautiful places in the BVI. Jen is definitely a world class chef, that prepared us delicious dishes all the time. Suzanna was always very helpful, polite and was always attentive to our every need. Remi was also very gentle, polite, nice and surprised us every day with our table decorations, fishing, mixology and water sports techniques. Thank You!!!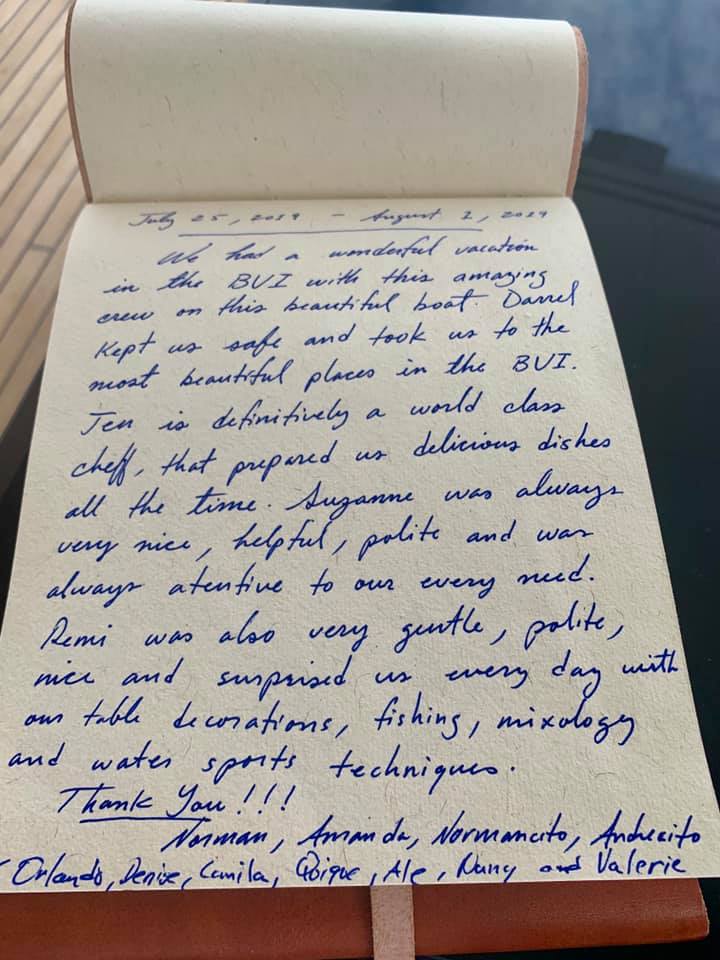 Vacation of a Lifetime!
We just got back from our epic vacation with family and friends aboard the Angeleyes Yacht! The yacht is luxuriously beautiful with its gorgeous interior. The rooms are incredibly spacious, each having its own luxurious bathroom stocked with everything you may need. The outdoor areas provided so many areas to sit and relax, eat meals with a view, or relax in the hot tub overlooking the beautiful blue waters. The staff is beyond amazing! Jen made sure we never went hungry on the table's ever changing place settings. The food was beyond delicious. From chocolate croissants, pulled pork salads, fish tacos, to Frito pie for these Texans with hungry teenage boys. Remi made sure we were never without an activity to do or a delicious drink in our hands. He is also a very talented "merman" who can find a fish and a turtle anywhere! Darrell is an extremely knowledgeable captain who not only got us to beautiful places to anchor, but also provided us with many jokes that kept us laughing. Some of our highlights...We went snorkeling above a sunken barge and along shoreline where we saw so many colorful fish. We went swimming with sea turtles and also came across a beautiful eagle ray and a puffer fish. Remi took the kids tubing and gave them jet board lessons. Not only did we take advantage of what the ocean had to offer, we also hit up some of the hot spots on the beautiful Islands such as Soggy Dollar, Foxy's, and The Willy T. Here, we had a blast drinking island cocktails and dancing the night away! My family can't thank the owners and the crew of Angeleyes Yacht enough for a vacation of our lifetime! ❤️🛥
100% perfection
100% perfection the entire week! Darrel, Jenn, Remi and Jenny - true gems. We were spoiled all week with Jenn's meals and snacks. Thank you for allowing us to enjoy your gorgeous boat! We had an AMAZING week! Cheers and hope to see you again! Heidi and Dan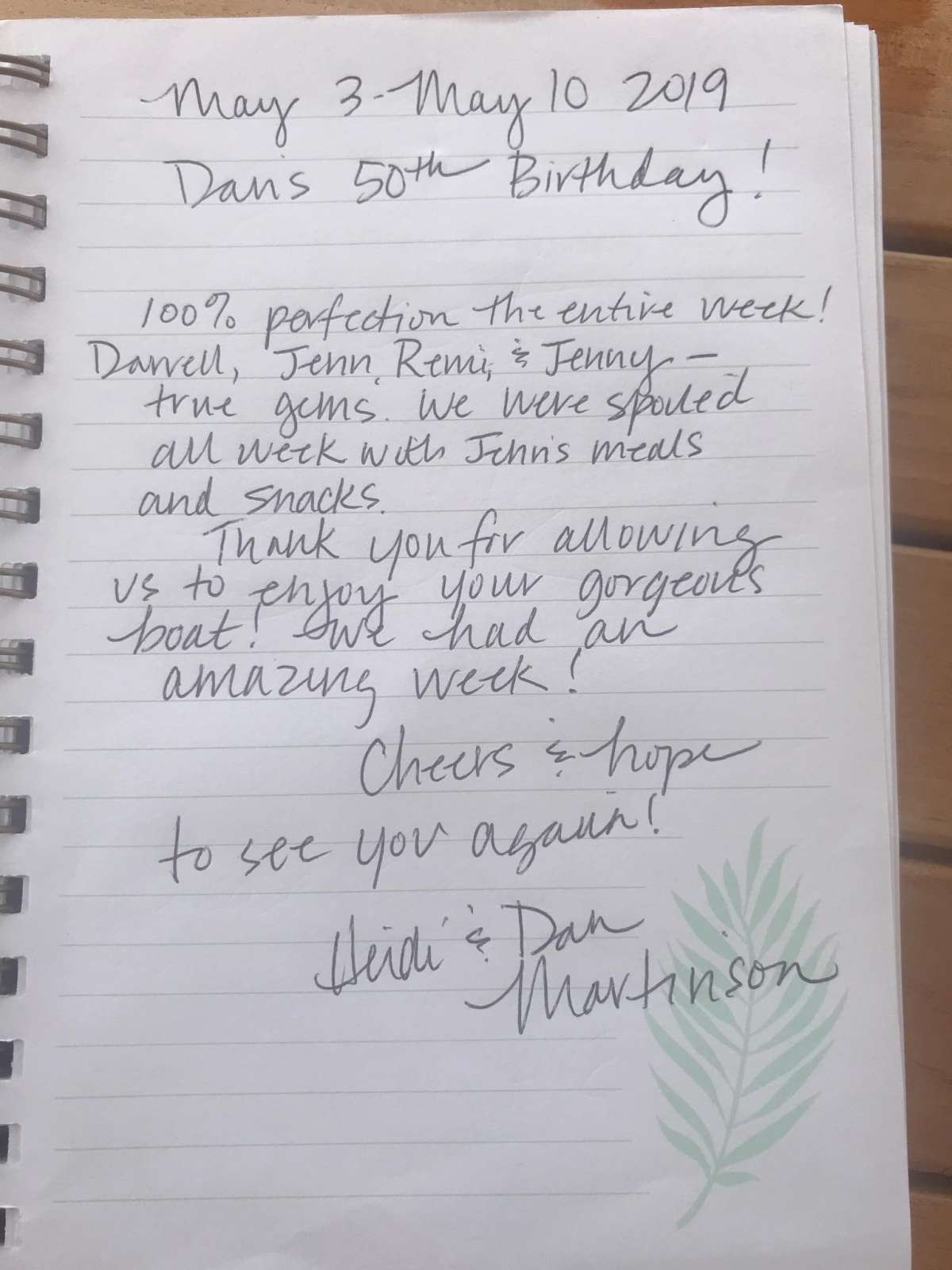 Wow! Wow! Wow!
Wow! Wow! Wow! What an incredible week! No words can explain this incredible yacht. Spoiled 100% by crew members, Darrel, Jen, Remmy and Jenny. They made this trip so memorable. Thank you so much for the week I'm certain our fried Dan enjoyed! Thank you again, Diane and Linda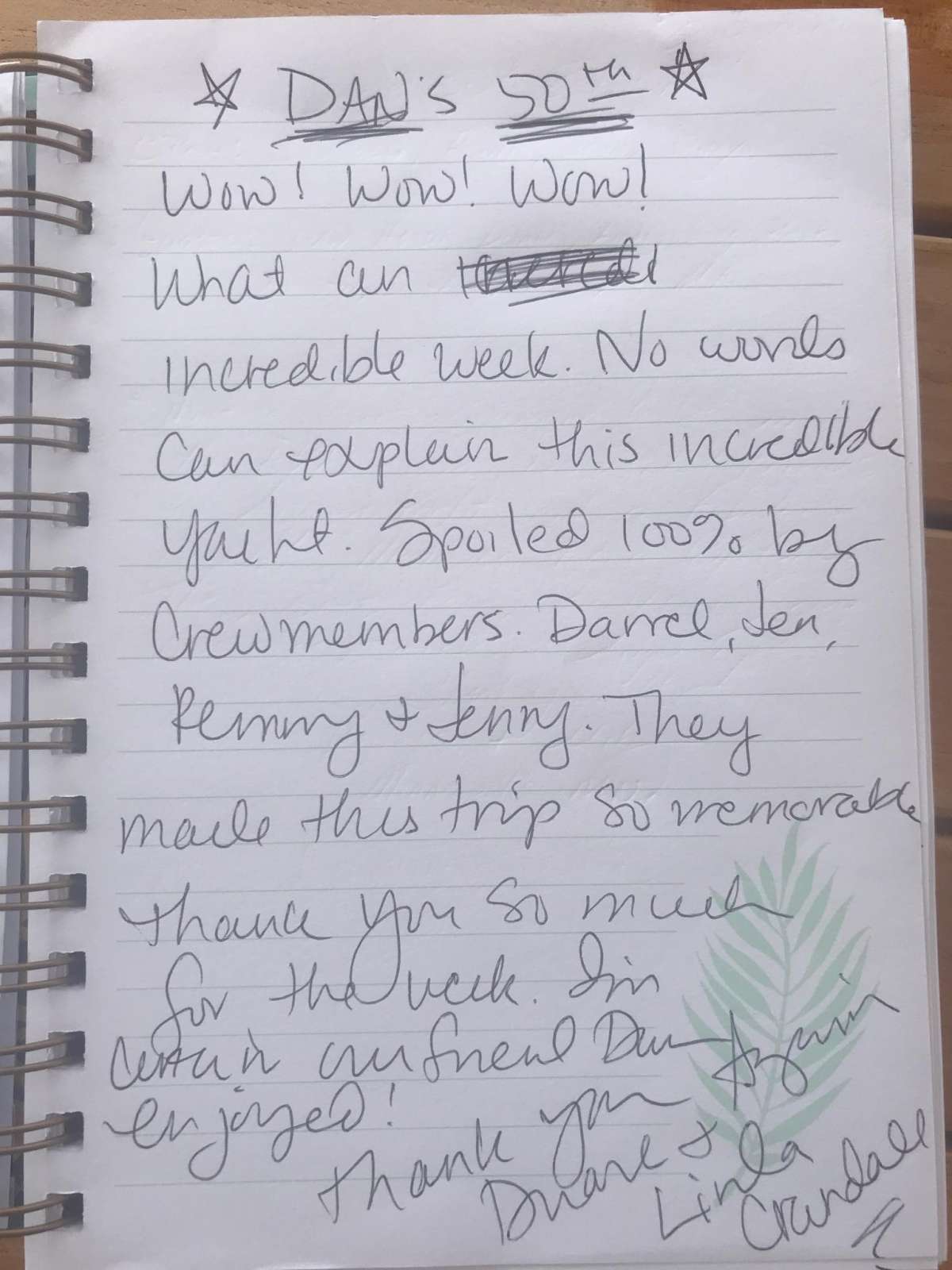 Memories of a Lifetime
What a great experience to be in the BVIs with wonderful friends, an amazing yacht and a fabulous crew!! Memories of a lifetime. The boat, food, drinks and service was exceptional.....'Angeleyes' thank you! Vanessa and Mike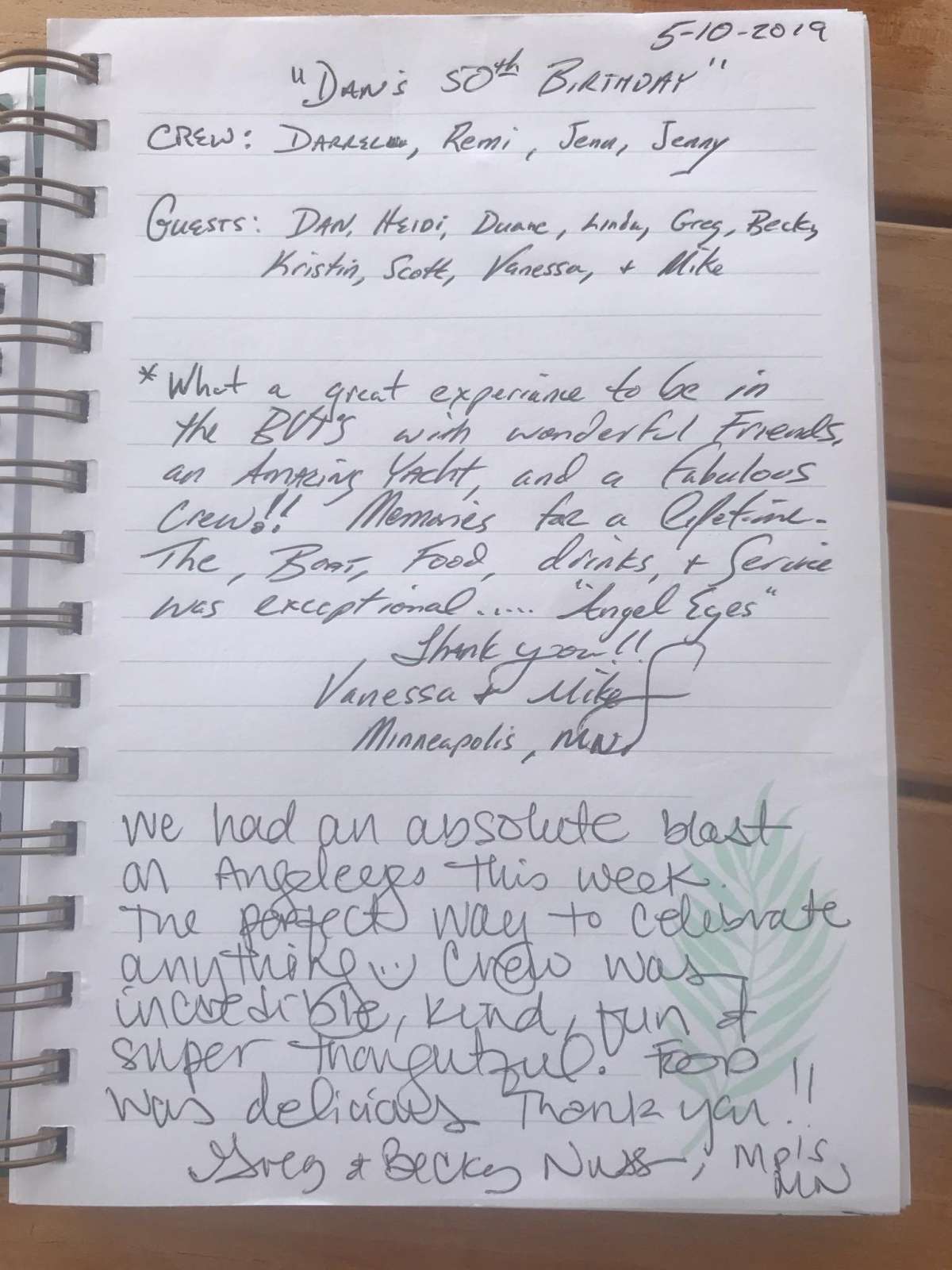 An Absolute Blast
We had an absolute blast on Angeleyes this week. The perfect way to celebrate anything :) Crew was incredible, kind, fun and super thoughtful. Food was delicious. Thank you! Greg and Becky