CREW PROFILES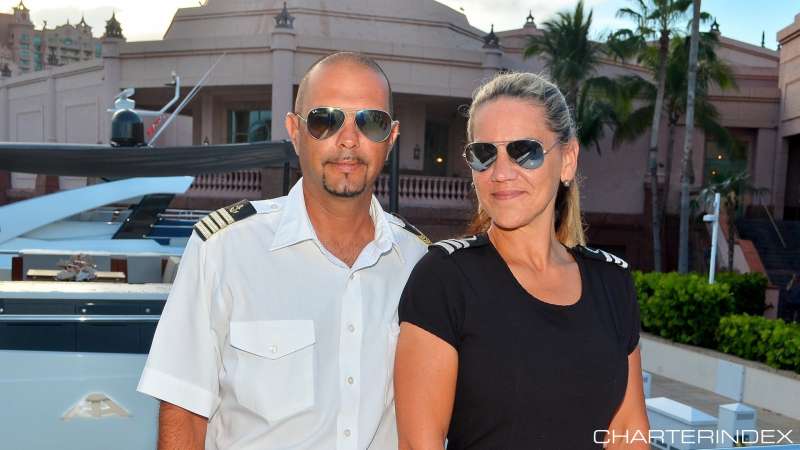 Title
Name
Nation
Born
Licenses
Captain
Tiago Palma
Portuguese
1975
RYA Offshore license & 200 gross ton license & Portuguese ya
Stewardess
Claudia Vieira
Portuguese
1973
Number of Crew: 4
Languages: English Spanish Portuguese
Crew Profiles:
Captain: Tiago Palma (42)
RYA Offshore license & now 200 gross ton license and Portuguese yacht license unlimited
Portuguese citizen
Captain Tiago Palma was born in Lisbon, Portugal. Tiago started sailing at only 6 years old. He studied Oceanography and has extensive experience sailing, diving, windsurfing and sport fishing in some of the best locations around the world with 3 Granders caught.
In the summer of 1996, he joined the yachting industry in Portugal as a deckhand and after two years became a Captain. Tiago has vast charter cruising experience ranging from the Caribbean, to the Mediterranean, the Pacific waters off Costa Rica, Panama and even the remote waters off west and east Africa.
Tiago is a consummate mariner providing his guests with a safe and memorable experience. In his spare time Tiago's passions are photography, diving, fishing and traveling the world.
Last 3 yachts on:
M/Y Apogee, Azimut 88'
M/Y. Flawless III, Azimut 116'
M/Y Bwana, Ferretti 80'

Stewardess: Claudia Vieira (44)
5 years experience on yachts
Portuguese citizen
Claudia was born in a Portuguese island, S. Miguel, in the Azores archipelago where she developed a love for the sea. Claudia joined the yachting industry in the Mediterranean and quickly grew her skills and passion for her work on yachts.
Her degree in Social Education, combined with her bubbly personality, makes Claudia an excellent addition to the yacht.
Claudia is looking forward to providing her guests with superb service delivered with a smile to make every AQUA LIFE yacht holiday memorable.
Onboard, you will find she is always eager to assist her guests in any way possible to make each stay aboard AQUA LIFE enjoyable and unforgettable.
Last 3 yachts on:
M/Y Apogee, Azimut 88'
M/Y. Flawless III, Azimut 116'
M/Y Bwana, Ferretti 80'

Mate: Jacob Sirowitz
D.O.B.: 9/17/98
Nationality: American
Excellent health, non-smoker, personable and hard working
CERTIFICATIONS
STCW: Basic Fire Fighting, Personal Sea Survival, Elementary First Aid, Social Responsibility
ENG1: Seafarer Medical Certificate
State of Florida Boating Safety Education Card
New York State Boating Safety Certificate
MARITIME EXPERIENCE
Deckhand, M/Y M4 132'
Performed day work as directed including sanding and refinishing wood flooring, full wash- downs, waxing/polishing boat exterior, cleaning windows and handling lines and fenders as needed.
Deckhand, M/Y Azteca 236'
Deckhand, M/Y Checkmate 145'
Deckhand, M/Y Avalon 151'
Deckhand, M/Y Indigo 104'
OTHER WORK EXPERIENCE
Customer Service Rep, Manor French Cleaners, Roslyn Heights, NY
Cashier, Holiday Farms, Roslyn Heights, NY

Chef: Freelance from a professional pool of extraordinary chefs.
Aqua Life wants nothing but the best for our guests. Service and great dining is important to the charter and we have a selection of fantastic, seasoned charter chefs on standby to allow for every charter to be a custom experience.