Aura GUESTS COMMENTS
Aura
We absolutely loved Ivan and Sandra! We couldn't have been happier with them. Ivan is super well connected – he knew everyone at every port we went to and you could tell it made such a difference, especially when the weather was not great and we needed to change ports and find a spot. He could magically come up with someplace to go even though ports were full! Sandra 'just has it down'. She was super attentive and at the same time very discreet. If we mentioned something to each other, like boy it would be nice to have a gin and tonic right now, one would magically appear. Her cooking was just fantastic….had these amazing lunches that would really fill us up we probably didn't need to do dinner some nights because we were still full. On cloudy days, Sandra would use her connections to plan out our day from the taxi pick up to the tour. They were both so nice and just lovely people. The boat was beautiful — chic and clean, well maintained. Ivan takes a lot of pride in it because he built it from a shell into what it is today. Overall, it was an amazing trip and we loved the boat and crew!
June - 2023
We just got back to split from our wonderful charter with Ivan and Sandra. They were wonderful. They really are true locals who know most every cove and island and service in the entire country. Their boat is in pristine condition not only do they take great care of it constantly but Ivan has equipped it himself with more power and air conditioning and electronics and lines etc.. than any other boat around. Additionally, Sandra and Ivan seem to know everyone who they can connect with, really anything you may want to do or see or eat. They love all travellers and really know how to prepare everything beyond expectations. All of the food was made with care and high-quality olive oil, fresh ingredients and good wines. They really did yearn to do whatever they could to make the trip perfect and tailored to your preferences. Our kids were a handful and they did great to help us pivot with both unexpected weather and preferences for more relaxed beach time. Even after we arrived back at Split they continued to help us make arrangements for new place to stay and scuba and even additional activities we learned about. Ivan was a joy. He's obviously a very confident and experienced captain and uses his lifelong friendships and laid back personality in a way to tailor where we were able to stay and anchor and visit or eat.

All on all just wanted to give you great feedback. I wouldn't hesitate to have any of your clients or guests sail with them. We only hope that we can revisit in the not too distant future.

July - 2022
July - 2022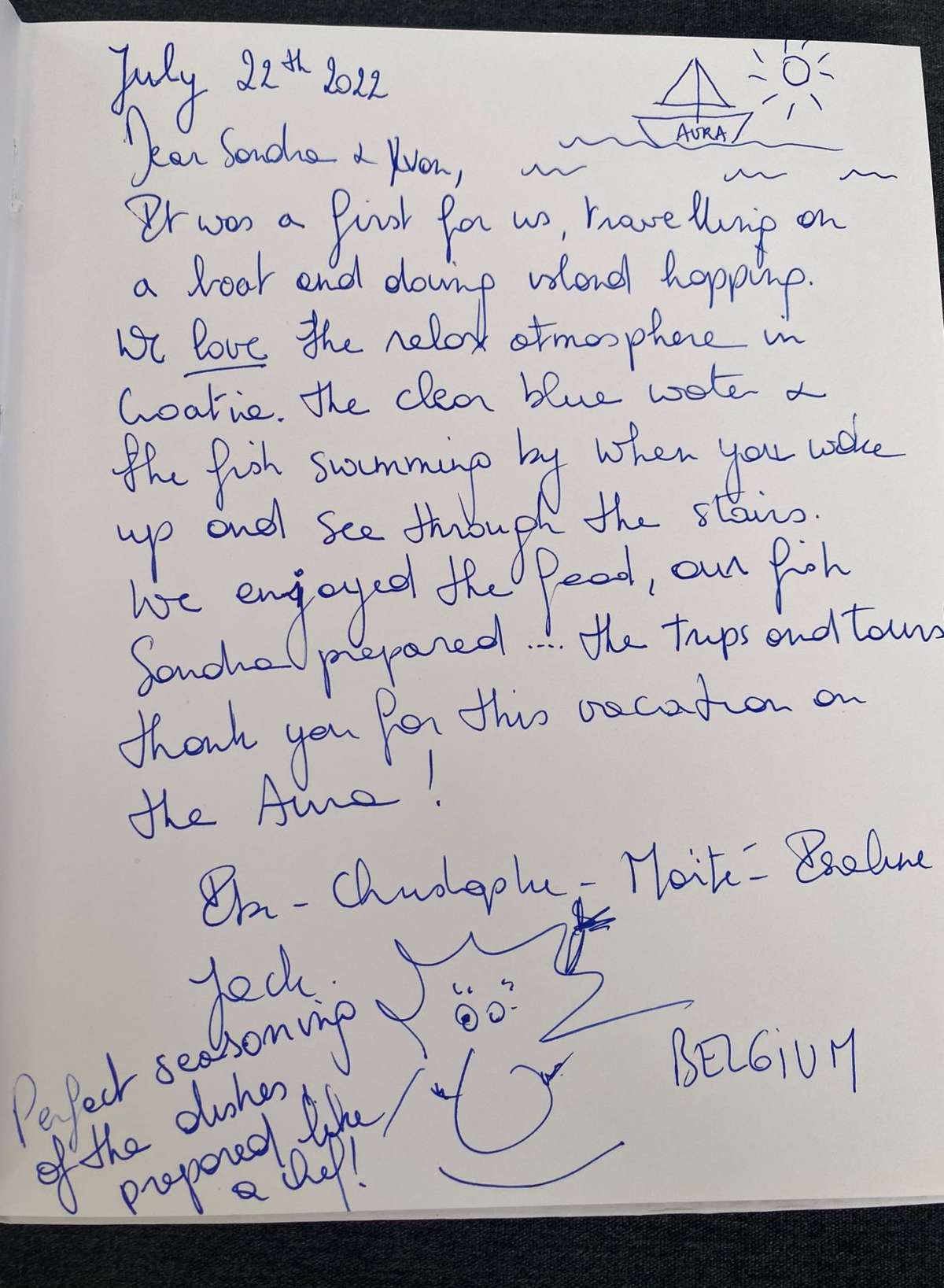 July - 2022
July - 2022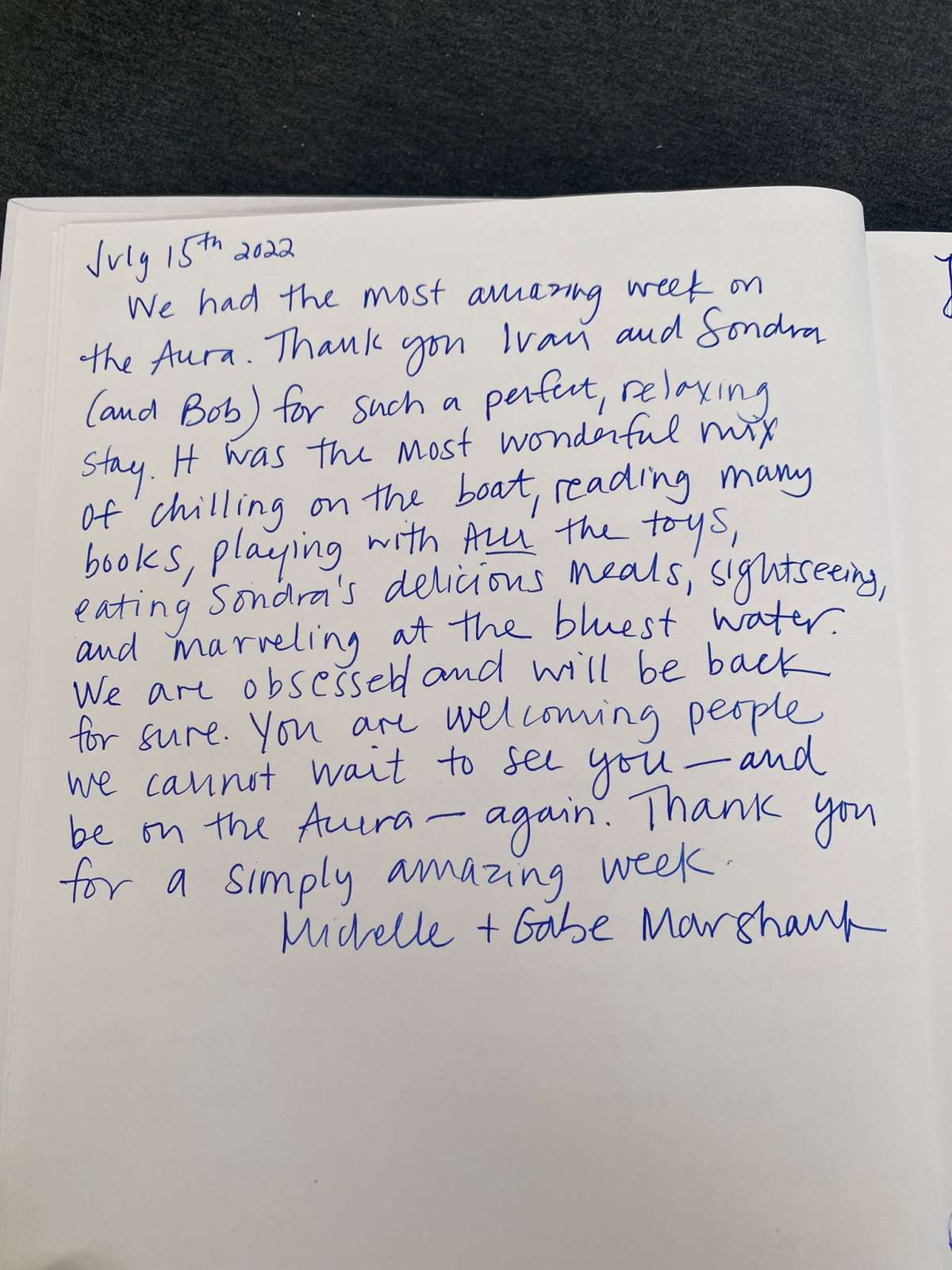 June - 2022
June - 2022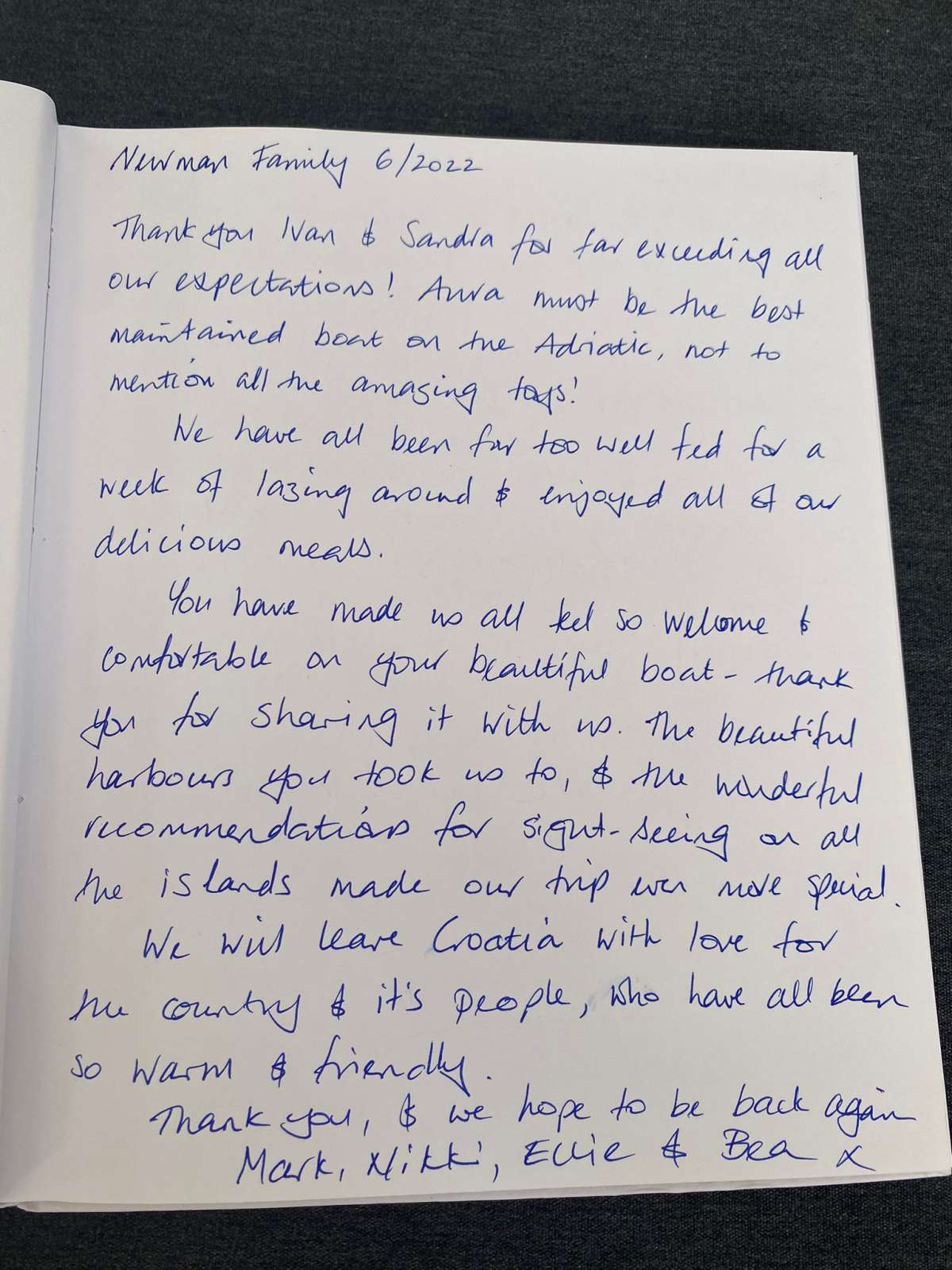 June - 2022
June - 2022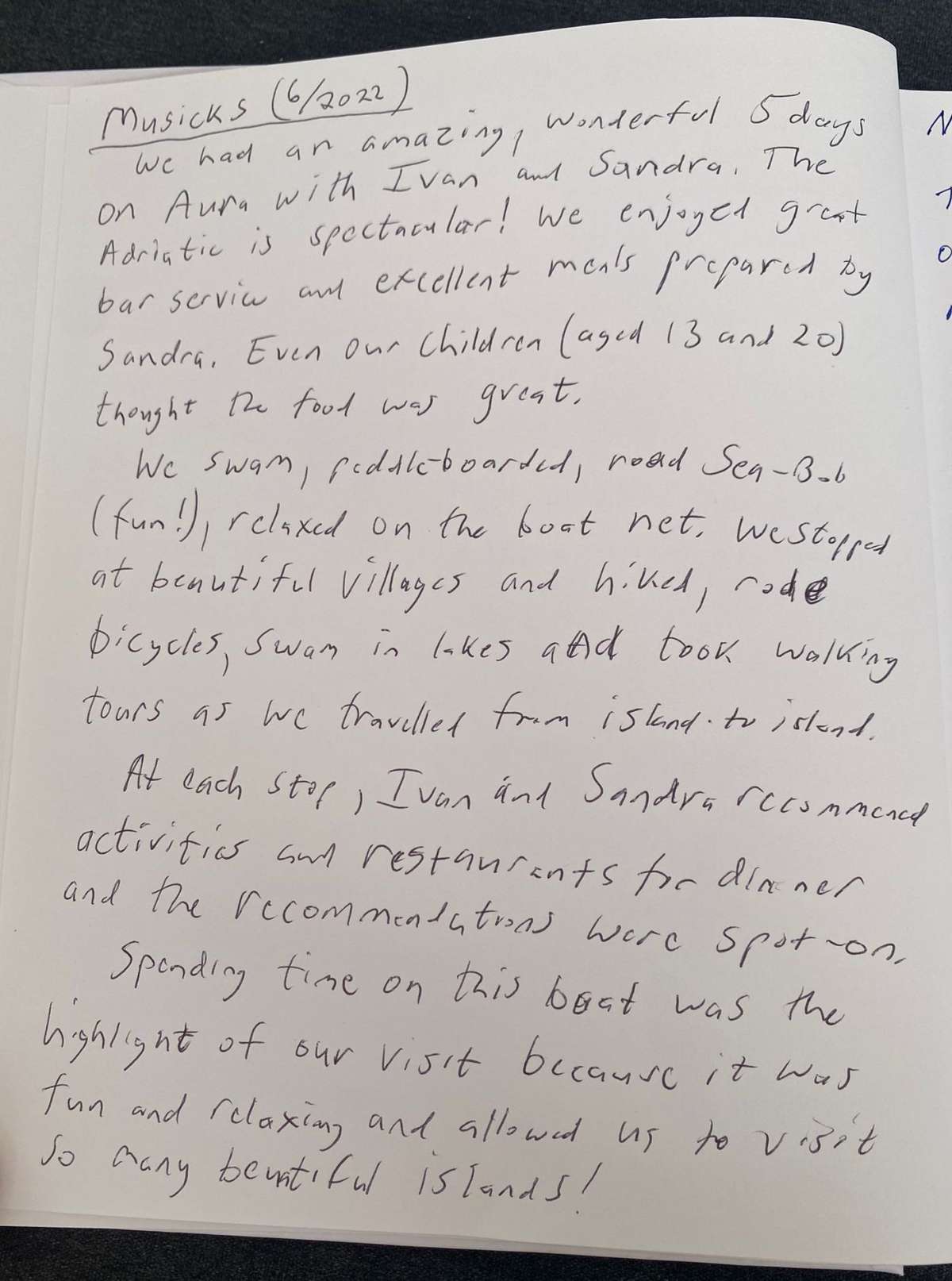 June - 2022
June 2022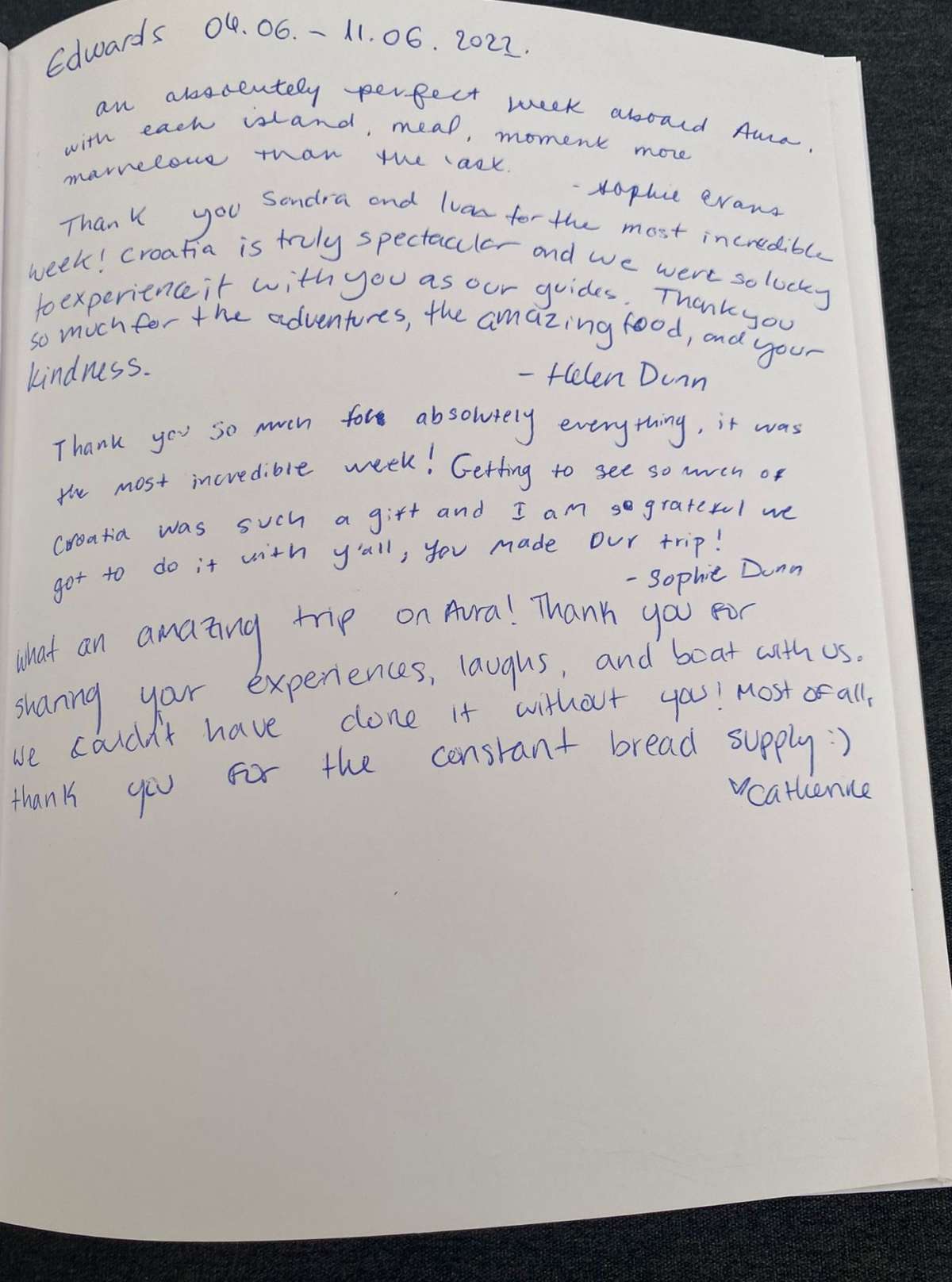 Aura - May 2022
We had a wonderful trip with Ivan! Thank you for your recommendation for the Aura - it was an amazing catamaran and we appreciated all of the extras that Ivan has added. He was so professional and kind, and we loved his attention to detail and safety. Many thanks to you for all of the information and detail you provided as we prepared for the trip, and for always replying so quickly.