FREE INGWE GUESTS COMMENTS
April 27- May 3rd
How did you enjoy your cruising vacation?
We LOVED it. It was the best vacation we've ever had. We want to do it again for sure and wish we were there now. It was the perfect balance of relaxation and adventure and I got some of the best sleep I've ever gotten gently rocking away on the boat each night.

How would you describe your Captain and crew? Were they Courteous? Helpful? Friendly? Attentive? Knowledgeable?

Captain Jared and Chef/Mate Daisy were fantastic. They were so attentive, fun, friendly, and accommodating. They had so many great ideas on fun things to do and overall delivered a high level of service to us. We appreciated how down to earth they were. You could tell they really enjoyed what they were doing - it showed in every respect. Hanging out with them was so great - we all hit it off easily and immediately. We would definitely sail with them again in the future.

Tell me about your meals? Did the menus meet your expectations? Did your Chef and Crew pay close attention to your Preference Sheets?

The food was amazing. The menus definitely exceeded our expectations and we were never hungry - there were full meals, snacks, appetizers seemingly all the time. We were never left wanting for anything. They did their best to follow the preferences. You never know exactly what will be available in the islands at any given moment, but overall there was nothing we said we should avoid that was served. We were super happy with all of the food overall. We did end up a little short on liquor/beer - we had to make a pit stop for more at one point. We tried to represent that on our sheet, but maybe didn't convey just how much we enjoy our drinks.

How is the yacht? Is she clean and well-maintained? Were your cabins comfortable? Was the cockpit comfortable? Was there enough shade?

The yacht itself was definitely clean and was generally in good working order. Our cabins were definitely comfortable - I got some of the best sleep ever in that bed. Storage space is a little tight of course, but it was definitely workable. We didn't spend much time in the cabin anyway besides sleeping. The cockpit was awesome. Room for everyone plus a ton of shade. We definitely enjoyed relaxing there while at anchor or transiting. We had a small problem making enough fresh water for everyone, but we made it work. The transom shower was a favorite of mine personally.

What did you like most about the yacht? What did you like the least?

Available amenities were a huge plus - water toys, fishing gear, scuba and snorkel equipment and many other options were all great. The cockpit layout was also great for us. I'd say the showers in the head area were the biggest drawback - the ladies in particular took some getting used to washing their hair with minimal water and a hand sprayer.

How did you find the pace and the itinerary of your vacation?
The pace and itinerary were perfect. I think typical cruises are a day longer than we did and in hindsight that additional day would have been nice. We made it to Anegada which was our biggest hope and we were very thankful and happy we were able to.
Would you charter this yacht again? If not, please explain:

Yes we would definitely charter Free Ingwe again. It was a great balance of price and amenities. We would always shop around a bit, but I would say we'd have a hard time not going with this boat and crew again.




What can Dream Yacht 's do to improve our brokerage services?

Candice and the team were fantastic to work with overall. Particularly when narrowing down our choices we found you all to be very helpful and informational. We split up payments between a couple of us in the party and then Candice was out, so things got really confusing for a few days while we sorted out who was actually able to help us. One or two people couldn't find our contract which made us a little nervous. All was well in the end though and we understood it was a bit unusual circumstance.

May we use you as a reference?
Yes, I would be happy to be a reference should that be helpful. We actually already referred another group to sail with Free Ingwe this year as well and they loved it too.

Do you have any photos you would like to share? If so, would we be able to share these images with the yacht for their reviews page and/or post them in a blog on our website?

Yes, I will send some pictures separately in case they are so big that it stops them from coming through.


-Mark
July 2019
We had such a wonderful vacation! Daisy and Jared were great! So patient with our questions, and so knowledgeable about the area. We were pleasantly surprised by the truly exceptional meals. Daisy and Jared "read" our group well and adjusted the itinerary to suit our interests; this was so appreciated. Everyone in our group was extremely pleased with the experience!
May 2019 After charter review
Overall Rating: 5
5 being the highest / 0 being the lowest

We hope your charter lived up to your expectations. We would love to know some of your impressions about your yachting vacation. Please answer the following questions and add any comments you may have.

- Was the crew friendly and accommodating?
Daisy was so friendly, an amazing chef and food artist, and a most capable Captain. Operating under duress because Jared was, unfortunately, in the hospital, she assumed the roles of both Captain and Chef and it was seamless!

- Was the yacht comfortable and clean?
Yes and Yes!

- Was the yacht well ventilated?
Yes and the beds were SO comfortable!

- Was the food good and well presented?
The food was far better than expected and the presentation was like a 5-star restaurant. There were no repeats; every meal was an event!

- Did you like the area you sailed?
Yes, it was surprising to me how close the islands are to one another. It felt more like sailing on a lake! There was enough variety among the places we stopped to keep it interesting every day.

- Additional comments on your charter?
My brother and I had planned to charter in the BVI for 40 years before we actually pulled the trigger. It was the very best vacation we have ever had and exceeded all of our expectations. Daisy's hard work and wonderful personality was key to that outcome!!

May 5th – 12 2018
Daisy and Jared took wonderful care of 11 friends for our weeklong charter in Antigua. Daisy is not only a great captain, but she is also an AMAZING chef. Seriously. It's impressive. Jared always ensured that we had a fun at every stop. He will plan any adventure. Daisy and Jared made our trip the best vacation we've have ever been on. Highly recommended.
28th April - 5th May 2018
I was invited to join a great friend for her 50th birthday trip on board a catamaran with ten other friends and a 'skipper'. We were all a bit dubious about who this young man might be and whether he could cope with eleven peri-menopausal women with no sailing experience. It transpired that the 'young man' in question was a young lady called Daisy - And she coped brilliantly
.In fact more than that Daisy was incredibly competent at maneuvering this large catamaran in and out of beautiful turquoise bays, and into seemingly impossibly tight spaces on a dock. She was so cool about it all and made it look incredibly easy. Daisy was great fun as our skipper and quickly became one of our team - or perhaps we became her crew!

Daisy is incredibly competent, professional, fun, enthusiastic, calm and just the person one needs for a great week in the Caribbean.
I can't wait for the next trip!

March 3, 2018
Our family of 4 charted with the amazing Daisy - Captain extraordinaire!!
Daisy's food was just wonderful, and Jarod took great care of everything we asked for. Jared was patient and kind with our youngest making sure his first snorkeling outing was a great time. Nothing was ever too much trouble and we were treated like an honored guest every minute of the day. We honestly had the best time ever. If you ever have the chance to do a sailing trip with Daisy and Jared it will stay in your memory for ever.

February 20 2018
Seven of us went on a sailing boat for the day and were brilliantly looked after from start to finish by our skipper Daisy and Jared. They made us feel immediately relaxed by their skilled and competent seamanship. We were treated to delicious food, ample drinks and super snorkeling by a reef. We can definitely recommend it as they are a great team, very friendly and professional.
Patty Charter January 2018
The photos tell the story -- happy group on board Free Ingwe.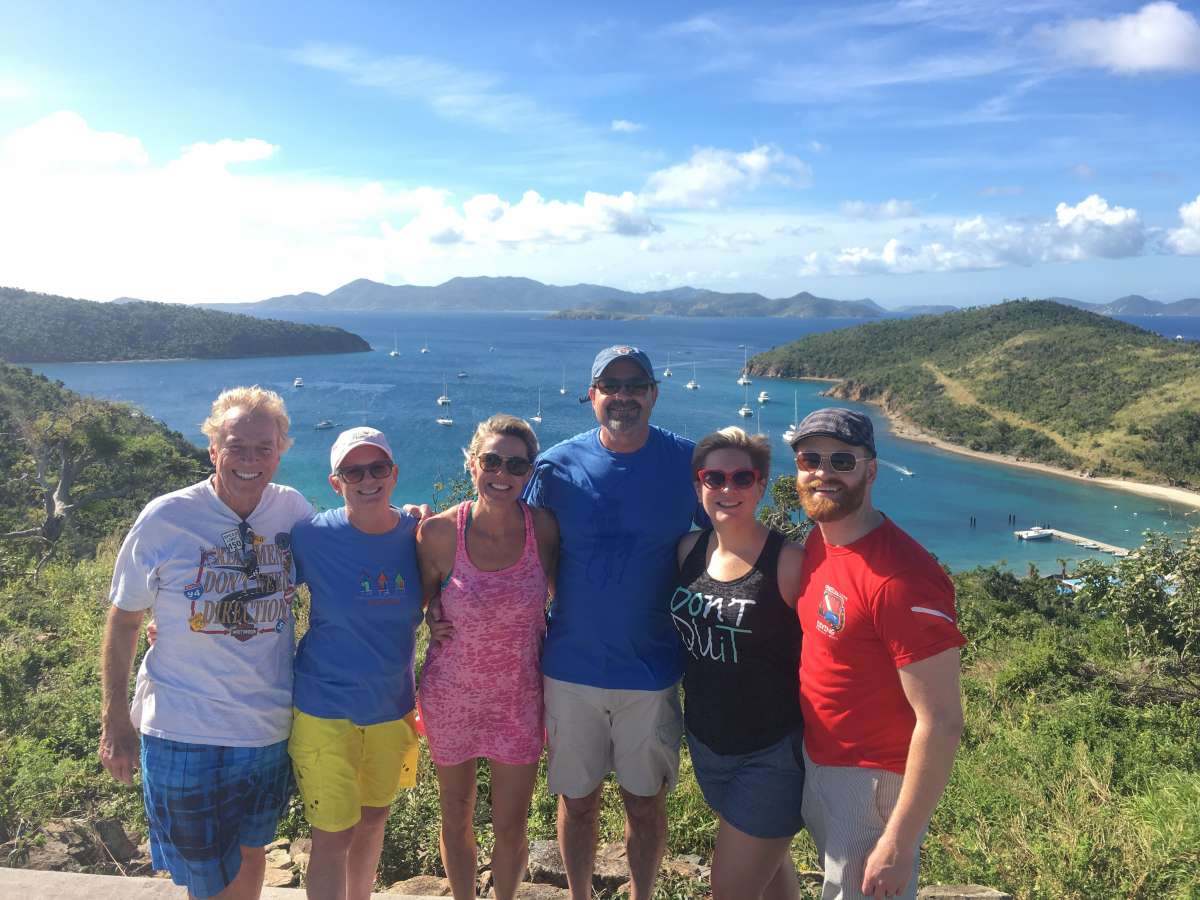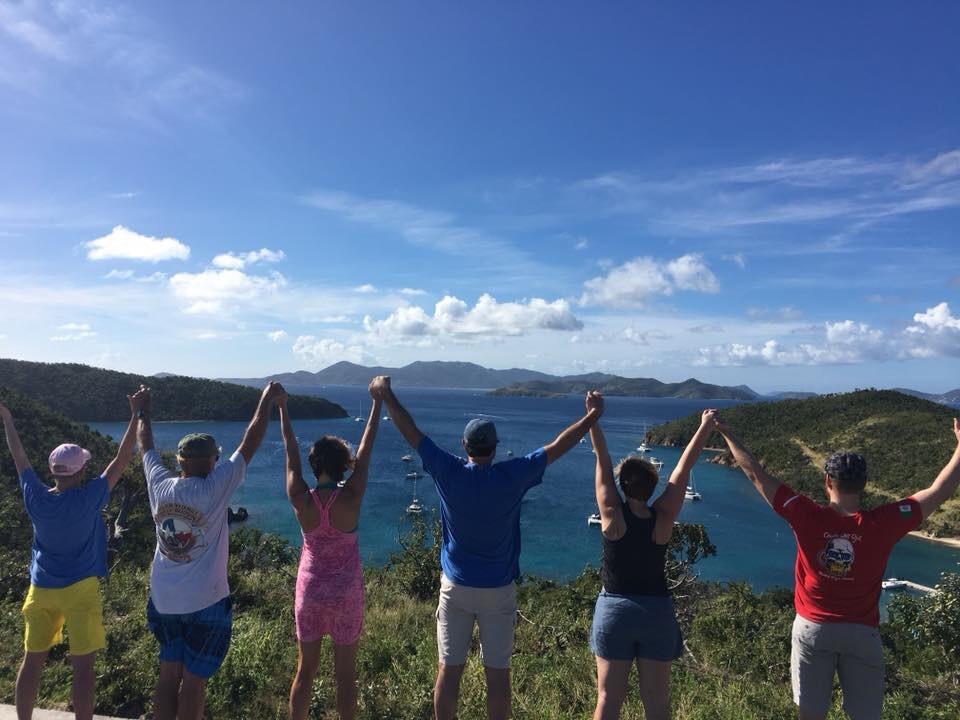 December 2017
, "The absolute highlight of our trip to America...Free Ingwe is in excellent condition, extremely comfortable and was a special home for us for our 6 night adventure! Erika created the most amazing meals for us - we never went hungry and she was so obliging for the fussy little members of the family...she was creative and never ceased to amaze us...Tyler made an excellent captain, involving the kids in sailing between the islands and being very informative. He found us good snorkeling spots and Thomas and I so enjoyed our dives with him. The kids have confirmed it to be the best part of our holiday and we thank both Erika and Tyler for their patience and time they spent with the kids, the games of uno, knot tying lessons, etc. It was a REAL holiday and we have returned home with many happy memories."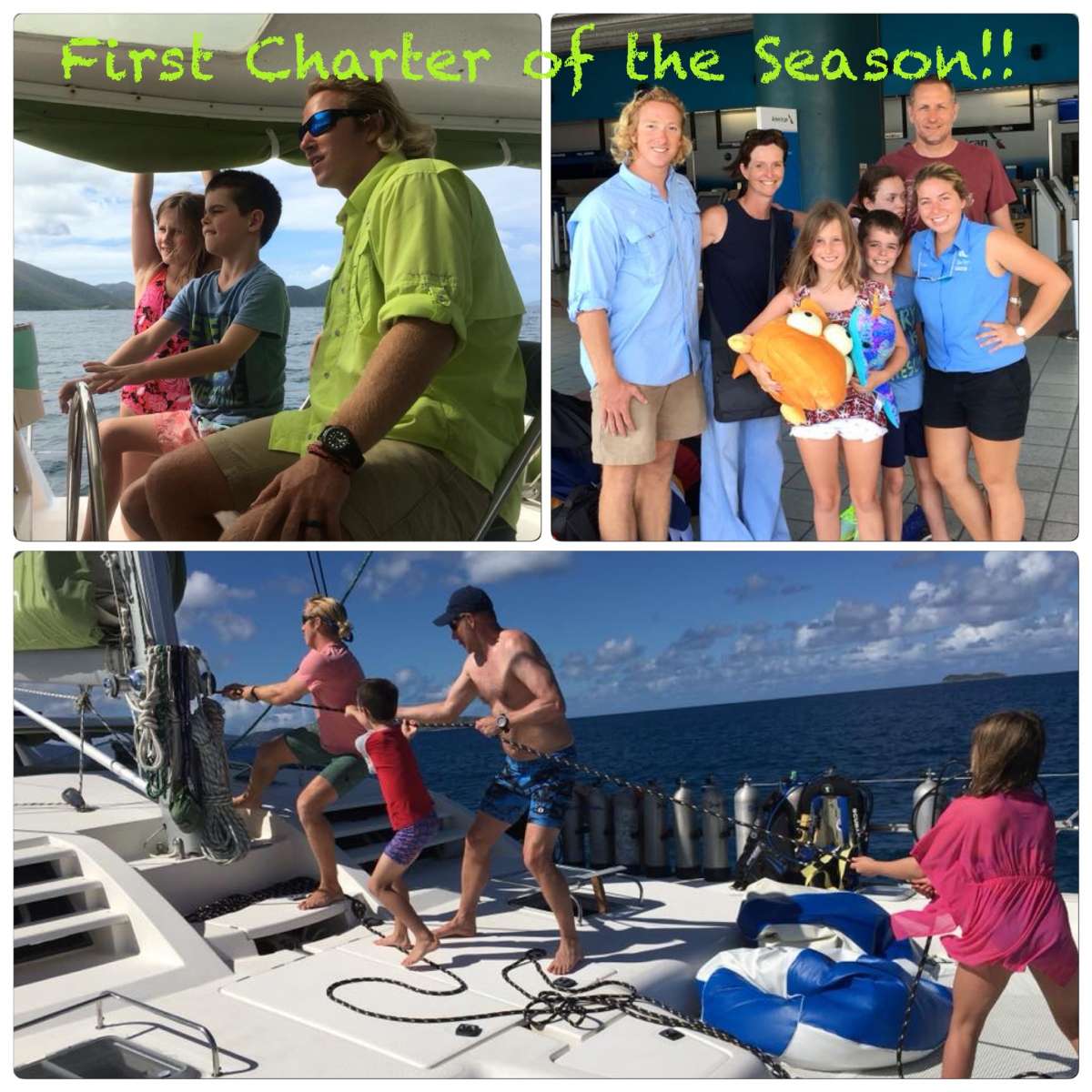 July 2016
This is my dream vacation and you two have made it all come true. I had a wonderful time. Thank you! Home sweet Boat.
-Brian

You both are so much fun!! Thank you for a memorable,fantastic week. we had a wonderful week, great food, great company, new friends. Couldn't ask for more.
-Sandy & Dennis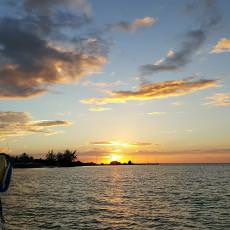 Fantastic Family Charter
We had such an amazing week. You two made the trip very enjoyable and added something extra to it every day. We hope to see you again next year.
- Julie, Taylor and Kevin.
June 2016
We had such a great time!
Thank you so so much Greg and Michelle. Missing everything already, my morning view from the front of the boat, fabulous food, all the special places/beaches, the awesome snorkeling, gorgeous sunsets, rainbows. I can go on and on. You guys are the perfect crew. Tot ziens
Marissa Groeneveld Willems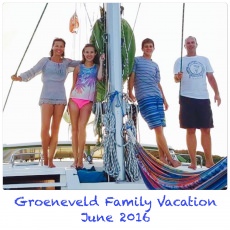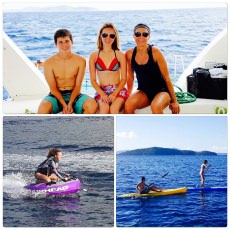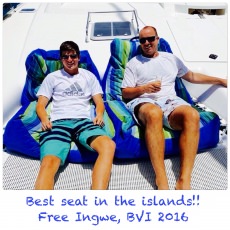 June 2016
Kudos to the crew Greg and Michelle. They made it so easy for our family to enjoy themselves. From all the places Greg took us, tips for snorkeling, taking our kids tubing to Michelle's awesome cooking.
March 2016
This was my favorite vacation ever! Such a beautiful and well kept boat! Captain Greg Evans and First Mate Michelle Collins are so professional, but made you feel so welcome!
Their knowledge of the islands was impressive! And I think I've made life long friends of the both of them!
I have been telling all my friends that this is the way to travel and if they want the best to call You!
Seriously you will not regret booking a trip with the group!

- MG Perdue


Definitely by far the best vacation our group has ever had! Thank you to Greg and Michelle for a fantastic time. We feel as if they are family that welcomed us home! Can't wait until next year!
-DBP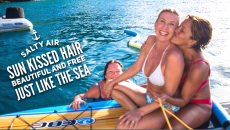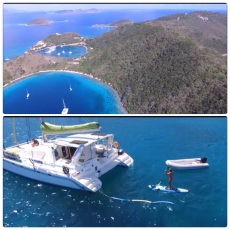 February 2016
It was all we were hoping it would be! Michelle and Greg were a wonderful host/hostess. From Greg's knowledge of the Islands and boats to Michelle's fabulous cooking, everything was awesome. This trip is a definite must for anyone that really wants to get away from it all and get off the grid for awhile. Waters so blue and breezes so warm it was tough to get any better than it was.I know we missed a lot, so I am guessing we have to get back again soon and with the pictures we share, sounds like we will be joined by a few more! Thanks for all the help and adventures we had. See you all again VERY soon!
thanks!

Brian and Sue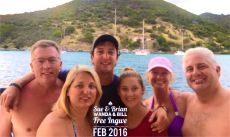 February 2016
What an incredible week we had aboard the Free Ingwe this February. Pristine beaches and scenery that seemed too beautiful to be real. No fighting to save a lounge chair at these beaches, lots of space for all to share.

Michele and Greg were wonderful hosts, accommodating all our needs and then some. Beautifully prepared meals daily and most excellent tour guides!! Can hardly wait to do it all again! Thanks for the adventure!!
B. Aarts & Company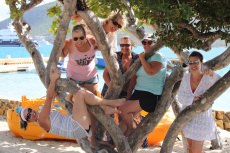 January 2016
On a beautiful sunny day in late-January 2016, six friends boarded the Free Ingwe in St Thomas to sail around the British Virgin Islands for a week. A bucket-list item for some of us, we could not have been more excited ... and we were not disappointed!

Free Ingwe is more spacious than you might imagine. Each couple had their own bedroom with Queen-size bed and private bathroom with shower. On deck, there is plenty of room to spread out ... grab a cozy corner to read, sit at the back table to play cards, or take a position upfront to watch the
world go by. Life in the BVI is very casual, which could not be more suitable if you are looking for a laid-back, stress-free getaway. I could not be happier about our week and I would recommend this
adventure to everyone looking for a relaxing holiday filled with beauty, lots of water activities, great food, and a lot of laughs!

The Captains knowledge of the islands was imparted throughout the trip as we moored at our various locations, explored the sites, snorkeled, and spotted delightful sea and land creatures. The food we ate onboard served on the outdoor deck, was delicious, especially paired with a cocktail or two.

We can not wait to return!!
B. DeVroome. Ottawa Ontario

New Years 2015/16
Overall we had a simply superb vacation. Free Ingwe was ideal for our family. The boat was well maintained and it was clear that Greg showed a real sense of pride and accountability for the upkeep of the boat. Both Greg and Michelle could not have been a friendlier, more professional and hospitable crew. Food was thoughtful and appropriately tailored to meet our needs (including accommodating my relatively picky son). We would highly recommend Free Ingwe and the crew in particular for anyone looking to enjoy a charter.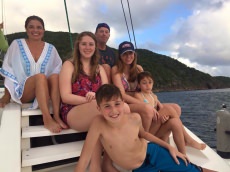 Christmas 2015
Free Ingwe was a beautiful yacht with lots of amenities! It was very spacious and loved the decor. The beds/pillows were very comfortable as well. Sailing was a ton of fun! Loved the dolphin seats and green chairs on the front.

The whole experience was the highlight! Being boat owners, we never dreamed there would be so much space and that it would be so comfortable for a whole week! We were all pleased with the smoothness of the boat, the views were spectacular, the water was perfect a #1 vacation!! (Ben said this has been our BEST vacation outranking Alaska and Hawaii and Playa del Carmen)
Only thing to add possibly one more paddleboard, room permitting. And of course the mega-yacht slide 

We loved the crew!!! Michelle and Greg were an exceptional pair as chef and captain. WE LOVED THEIR ACCENT and learning about South Africa was very memorable. Ben tried to sell them on being the next YouTube sensation! We appreciate all their efforts to make our vacation special! They are VERY gracious and patient host and hostess. Not sure how they put up with so many different guests and their personalities, but these two are pros!!

ALL the meals were delicious and well beyond what we are used to!! Highly recommend FULL board because Michelle is THAT GOOD!! Michelle put forth a tremendous effort to make each and every meal perfect and savory. We enjoyed the vast assortment of placemats, napkins, tablecloths and table runners more than we have at home!!! Greg set the table for most meals and did a wonderful job hopefully John and Ben learned a few things. We are not used to such fancy dining. It was really hard to not help with the dishes ha! And the cocktails and appetizers were yummy, too! Another treat we never indulge in at home.

Greg was fantastic at planning our itinerary each day and getting us there!! He picked great spots for dinner, snorkeling, diving and all the water sports. Weather sometimes got in the way, but we had fun and saw the sights. We especially loved the Captain Talk each morning explaining where we were going, local stories/history and what we shouldnt miss seeing at each location. Amazing how many dingy rides we went on!

Cultural exchange was immensely enjoyable!! Americans are really sheltered, so its wonderful to hear how things really are in other parts of the world!! Greg and Michelle have seen and done a lot for their young age and they are both great storytellers. We enjoyed their company immensely.

Christmas Day was wonderful! Michelle made a terrific breakfast (even better than previously awesome breakfasts!), decorated the table, the chocolate milk even had ribbon and bows, and Santa hats on Greg and Michelle! Michelle created a fabulous Christmas dinner for us the roast was perfection! And a super special South African dessert was the happy ending to a great day! It was odd not being at home on Christmas, but this was such a memorable trip we are so happy we dared to make a change 
And.. we met Foxy! That was fun and he was very entertaining.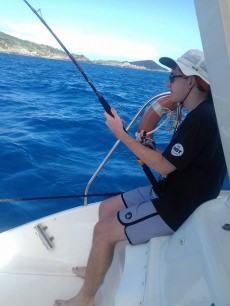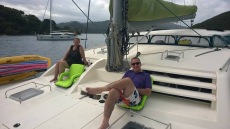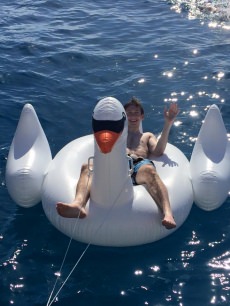 November 2015
I am sorry it has taken me some time to write this email, but my world is extraordinarily busy since returning from my trip.

I wanted to let you know how much I appreciated Greg and Michelle, and their dedication to my complete satisfaction on my charter. They were truly outstanding in every aspect of their hospitality and service on my charter.

Because I was on charter as a solo guest, they were forced into a role that most crew does not experience. While it may be seemingly easier to work with just one guest, it has challenges around socializing and entertaining that can be exceedingly greater, due to no other passengers being on board to entertain one another.

Michelle's cuisine and general attendance to me was absolutely perfect. I went with half board based on precious experience, and simply not knowing how skilled she was. After one day, I was so impressed that I wanted to save a few of my meals for later in the week because they were so good! Her positive attitude and morning greeting with coffee in my hand, as I emerged from my state room.

Greg was an excellent Captain and he navigated the boat into comfortable anchorages each and every day. His skills as a sailor were equally impressive, as we enjoyed some excellent times under sail. Additionally, his handling of the tender was far more comfortable and accommodating than I had previously experienced. Finally, he was an outstanding diver, and despite being relatively new to the area, lead me on dives that were absolutely fantastic. Interestingly, I had done several of them, many times previously, but his calm and deliberate ways made all of them far more enjoyable than I had ever experienced there.

Overall, it was one of the best charters I have ever had. I will definitely return sooner than later. I would highly recommend them!

Thanks again for having me!

Gary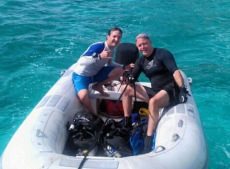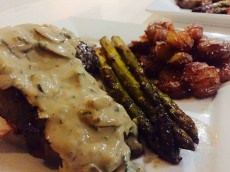 June 2015
PAINKILLERS AND WIND IN YOUR HAIR

By Alona T.

This story of a recent adventure in the British Virgin Islands is not so much about food, but a combination of experiences including sea spray, friendship, appreciation of a job well done and some very fine cuisine. Free Ingwe is a 45 ft. sailing catamaran that we chartered with two couples. Although, our captains wanted to try navigating their own boat, we decided to trust the skills of a hired Captain and a Chef on the high seas of the Caribbean. As we sipped our first Painkillers (rum drink) at Malloy Molones in St. Thomas, we met Captain

Austin and Chef Philippa. As they dingy us to the boat, we are very aware of our age and how young they are.

Captain Austin took control right away and we were off on the brilliant blue waters with the sails to the wind. We truly learned to respect his control of the Free Ingwe and his knowledge of the area. His suggestions suited each of us including excellent sailing, scuba diving coves, snorkeling in the turquoise waters, and sitting on the white sandy beaches.

Our Half Board (breakfast, lunch and two dinners) gave us the opportunity to try a variety of restaurants following Captain Austins suggestions. We had a gourmet dinner in a treehouse on the island of Virgin Gorda, wearing no shoes on a beach we gorged on grilled spiny lobsters, and took part in a BBQ buffet with entertainment provided by stilt walkers and finished the evening ending with dancing under the stars.

Chef Philippa, a graduate of the Ashburton Cookery School in London and has a law degree, divides her time between the galley, assisting the Captain, and as a Master Scuba Diver. She led our tentative divers to a shipwreck and other underwater sites. Her skills in the 5X 5 galley were exceptional. The small area included all the tools of the trade except a microwave. The freezer was well stocked and two refrigerators held the fresh products. She did use a food processor as the tossing of the boat was a bit dangerous for a knife.

All meals were served on deck in the balmy air. Every breakfast was different and the Brioche French toast with banana rum sauce was perfect with our morning coffee or tea. Lunches included wraps, grilled chicken, Mahi Mahi and Captains famous cheese burgers. Cocktail hour, which always started pretty early, was accompanied by appetizers as Romesco sauce with pita slices or caramelized red onion crostini. Captain Austin, with a Business Management degree and family restaurant history, excelled at the barbeque. His beef tenderloin was cooked perfectly for each taste. This was served with wonderful cream and garlic scalloped potatoes, grilled asparagus, Marsala wine braised shallots and Balsamic sauted cabbage with chocolate mousse as our dessert. The galley became a sweat box as our Chef prepared each dish including a made from scratch cheesecake that was exceptional.

As the days went by we became an Ingwe (Leopard) family with lots of laughter, storytelling and even better friends. As we departed it became evident that each of us was of the same thought - if we were to do those early years over again it would be our wish to live on a catamaran, and sail the ocean blue. Sounds good, but we never had the skills of our gracious crew.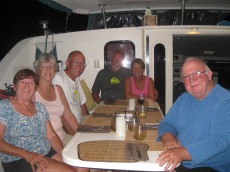 March 2015
Weve filled in the form below however,
It just would not be enough to say we are happy with the cruise. Austin and Philippa were soooo accommodating and did such a fantastic job with each and every request we made.
I dont think weve been anywhere, anytime when weve been treated so wonderfully. Every day was better than the one prior and every evening was magical. The sailing was outstanding. The food was scrumptious and so pretty I couldnt help but take pictures of it.
Their knowledge of the islands and the places they took us too to snorkel, walk the beaches and just hang out were soo beautiful.
Of course the anniversary dinner was a special request and frankly we didnt expect much. You know some crackers and meat n cheese plate on some rock. We thought many times of retracting the request as it did seem a bit presumptuous to us. I am so thankful we didnt. We awaited them at the bar while they went off who knows where to prep. We were getting bit nervous as the shadows grew longer and no sign of them. Then just in perfect timing Austin came up with the dingy and said, (I though as a bit of a tease) well we stole a little piece of beach from Richard Branson and then he took us to a perfect beach on Mosquito Island. They had the barbeque going, a beautiful beach blanket laid out with a rock heart and our names etched in the sand. There was a silver champagne bucket with chilled bubbly, which they graciously pour for us. I saw my first green flash as the sun went down. Then the candles came out and our first course of grilled prawns and another round of bubbly. As they were through out the trip, the two of them were quietly and mysteriously working together to prep and would show up just in time to pour some more or open the second bottle. (I really dont know how Philippa does this) The main course was Grilled chicken with a tasty mushroom sauce, camp potatoes and Asparagus. It was delicious. We had fried Pineapple for dessert and then dingied back to the boat. We never saw them putting everything back in the dingy and it could not have been more perfect for us.
As a final omen of fortune when I awoke the next day there was a rainbow ending right at our beach. WOW. Not sure how they planned that, but I am sure it was their Karma at play.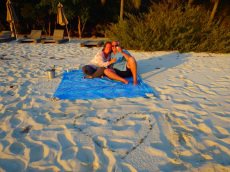 March 2015

An amazing trip! I would do it again in a heart beat! Best trip, best location, and best crew!!! The boat was bigger than the pictures shown to and that was a pleasant surprise. Food was great and the rum flowed like wine lol. We had a blast and can't wait to do it again!! And when we do it'll be aboard Free Ingwe!! Thanks for everything Austin, and Philipa!!
-heather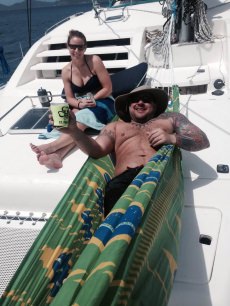 March 2015
Recent survey:
Was the yacht everything you expected?
No. It WAS ABOVE AND BEYOND what was expected! From yacht to crew.


Any particular highlights or areas of recommendation for improvement.
Highlights include the crew! Austin and Philippa made our FIRST experience on a yacht not only memorable but enjoyable as well. We are planning to yacht again because of our experience with them!


How would you describe your crew?
Austin King was a great captain, held great conversations, and was very hospitable. I must say Naomi was hesitant before going on the yacht to be in close quarters with ppl she would barely be meeting but she said they made her feel comfortable right away and forgot instantly they were once strangers. Phillips was great as well. Excellent chef and catered to us above and beyond our expectations. She made us feel extra special with her amazing cooking! We must say, we felt we made lifelong friends with Captain Austin and chef/mate Philippa.


Did the meals meet your expectations in regards to the quality and presentation?
Yes! From Day one! Evan is typically skeptical to trying new things but he enjoyed her cooking from day one so much that he tried every dish (AND LOVED IT!) and this includes the salmon bagel (Evan is notorious for not eating fish) but he loved it! Naomi, Evan and the group were beyond satisfied and asked for seconds not bc we were still hungry but we couldn't believe the quality of food she could deliver from that tiny kitchen! Her cooking was better than any island food that Leann and others were asking for recipes to take home!


Were the itinerary, activities and pace of your charter as you liked?
Yes! We had so much to do! Austin & Philippa seem to have an excellent grip on reading the groups energy levels and the types of activities we would like.

Please give an example of something your crew did to make you feel special.
For Naomi, she loved the salmon bagel. When I say "loved" this is an UNDERSTATEMENT. She casually mentioned to Evan that, "I wish I could have this tomorrow morning too, it's so good! I ate it all before I could take a picture!" I believe Philippa overheard this because the next morning she said, "Naomi, I have extra salmon and bagels. Would you like one this morning?" She had that days breakfast ready but was so sweet and very thoughtful of her to go out of her way to prepare me my salmon bagel and I could finally take a picture of as well.

Evan had so many questions regarding being a captain and flooded Austin with thousands of question but Austin answered every one of them with enthusiasm and kept the conversation going. Evan even said, "Austin makes me feel like a captain. Like I can do this too!" Austin was very sweet and taught him so much about being a captain on a boat! To the point where I think Evan might switch careers! Lol

Was there a special day or moment that youd like to share?
Every day was awesome! I think we each had our own favorite day. Our each own favorite island and that's why we enjoyed the trip! In particular, Naomi saw an ad for "dolphin interaction" and screamed in enthusiasm about how she's wanted to "kiss a dolphin since forever!" The group has always known about Naomi's "obsession" with dolphins and laughed it off and said they would explore the island and lay on the beach while she "went to kiss a dolphin." Evan said he would go with her but wouldn't do it, Austin saw Naomi was a little upset no one wanted to share in the moment with her so he said, "I'll join you Naomi. I'll do it too." And he did!! This is above and beyond of what is expected from a captain and even customer service! Even the other tourists were surprised that our captain joined me and said we must be on one great boat! Evan said he liked & respected Austin even more for joining me when he didn't have to.

Would you spend another vacation with this yacht and crew?
Honestly, we cannot imagine another vacation without THIS yacht and crew!! Of course we would!
On a scale of 1 10 with 10 being excellent, how would you rate:(add any comments you feel pertinent)
Captain 10
Chef 10
Menu 10
Yacht 10 but I think a keuring or new coffee maker would definitely be helpful!

Would you recommend On Deck Charters to your friends?
Yes! 110% with Austin and Phillipa as crew!

February 2015
We had an amazing Family vacation on Free Ingwe. Austin and Philippa were so kind, helpful and patient, patient, patient, patient with the 3 young kids on board.
Philippa gave our youngest Kyle so many important "Chef Jobs" to do while she prepared meals; he was so smitten with her and he began talking "Irish" after we returned home. Kenna rarely left the captains chair (or stopped talking and asking him questions). Each morning as Austin prepared the boat to sail he would get a few pillows to prop Kenna up so she could "keep watch" with him. What a saint he is...

Austin guided daily snorkel scavenger hunts for the 3 kids and my brother who doesn't dive. This was helpful as my brother would not have been comfortable in the water alone with all the kids. Philippa led us on some great dives and gave me helpful pointers/feedback after each dive. My confidence as a diver grew leaps and bounds throughout the week!!

A special thanks to you for allowing us to change the pickup/drop off spot last minute. We are not sure of the rule changes ect..., but we are so grateful you had everything under control. We saved so much time and money (and stress) not having to ferry over to Tortola.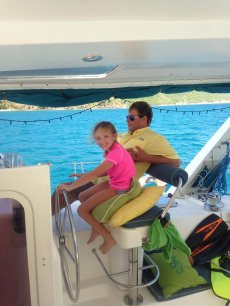 Thanksgiving 2014
I enjoyed the trip on Free Ingwe with your new crew. As you know, I was a bit concerned going into it, since I had grown so close to my previous crew.
My worries were put to rest within minutes of pulling away from you at Red Hook. They were completely enthusiastic and accommodating to my every need. They are much different from my previous experience, but it was truly a relaxing vacation. We explored new dive sites, blazed new courses around the islands I did not know well, and showed me things I had not seen. It was easily one of the most fun charters I have had there.
Even when things beyond their control they improvised and resolved the issues quickly and completely. For example, the dive shop was not open on Jost on Saturday and we had no full tanks....most crews would have said lets do something else. I wanted to dive the Cathedral, so Austin took the tender to Tortola and returned with tanks ready to dive. We still had time for Soggy Dollar, Foxys for Happy Hour, and two football games. Returning to the boat, I wanted a late night snack, and Austin whipped up a "gourmet" grilled cheese while Philippa and I planned out the next day's dives.
Since I was coming alone for a great portion of my charter, it had to be tougher on the crew to keep me entertained; but you would never have known it. In fact on one day alone we hit four islands, made two dives, I did four water ski runs, we made happy hour at Foxy Taboos, and still had time for three meals on board, and a night cap at Foxy Taboos. That was a typical day!
Great crew, fun boat, and very accommodating owners. I will be back sooner than later!

Fantastic Family Charter
We had such an amazing week ! You two made the trip very enjoyable and always added extra special things along the way. We hope to see you again next year. !!

-Julie,Taylor & Kevin

New Years 2018
We just wanted to thank Tyler and Erika for an amazing week. What an incredible way to begin 2018! You were both welcoming, accommodating and fun. Thanks for helping us make such special memories!