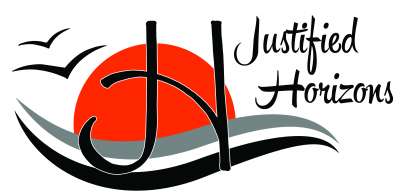 JUSTIFIED HORIZONS GUESTS COMMENTS
April 2022 Charter
Ryan, Dani, and Christian,
Therapy comes in many forms. You all provided the best type for us. You gave us the freedom to rest our weary hearts after a rough season for us.
Thank you for thinking of things before we could and meeting every need we might have had.
You are all inspiring making the choice live out your dreams and sharing your gifts with others.

Much Love,

Michelle and Michael

Ryan, Dani, and Christian,
This week has been amazing- fun- delicious- relaxing!
Your teamwork is second to none and we are so very glad that our paths have crossed. You've made this week of vacation so awesome!
Thank you for being an amazing team. We love you all and can't wait to do this again!

Thanks for the late nights,

Mark and Angela

January 2022 Charter

Dear Captain Ryan, Chef Dani, Rosko, and Missy,

We accept the fact that we had to sacrifice a whole week aboard Justified Horizons for turning 50! But we think you're crazy to make us write an essay telling you who we think we are. What we found is that each one of us, in our moment, is a Pirate Daphne, a turtle, a failed Baywatch run, a Pirate Bluey, and that collectively our days are far better spent together. We are incredibly blessed and so grateful to have spent this 50th celebration week with you, surrounded by your TLC, this gorgeous boat, absolutely beautifully presented fantastic meals, an off the charts beach lunch set up, never ending RBV's, multiple daily sparkies, awesome theme night décor and each of your great individual wit. Thank you for absolutely everything. You guys truly rocked it!!

When I wrote our descriptions before the trip, I told you that you were going to love us. I hope as we disembark that you actually do, and that from here forward sparkies, Carl Wockner, and late night upper deck Seventh Heaven disco parties will always hold a special place in your hearts.

Love,

Heather and Mike
Martha and Scott
Chandra and Mike
Christine and Simon
Robyn and Kevin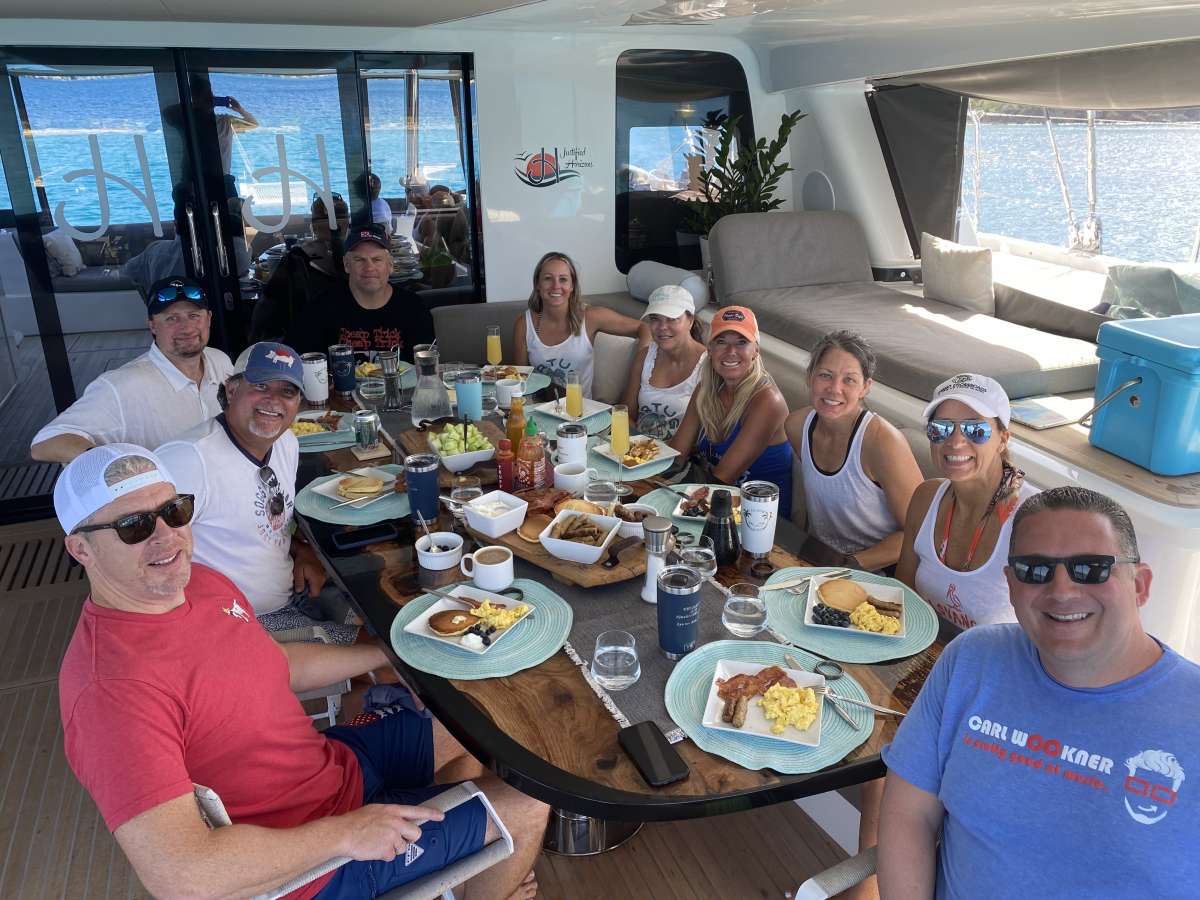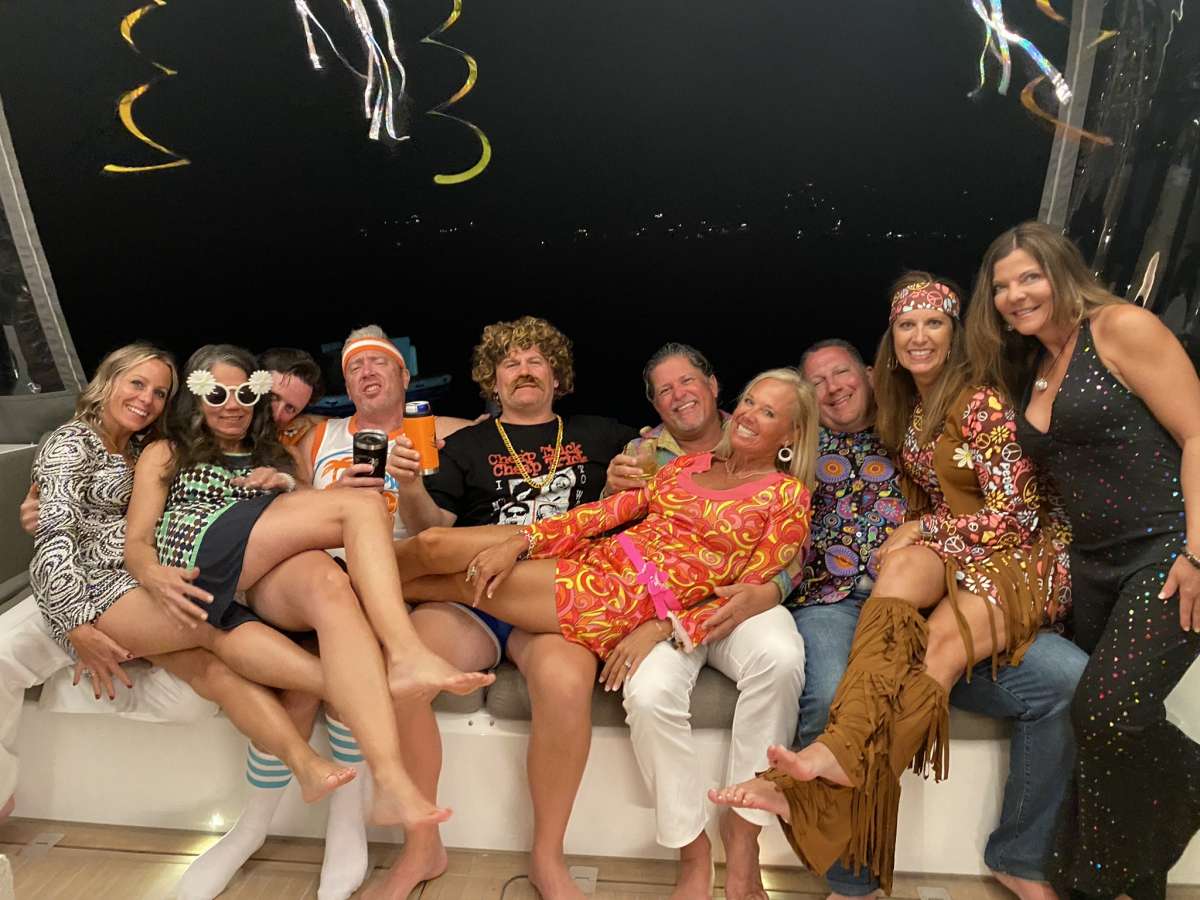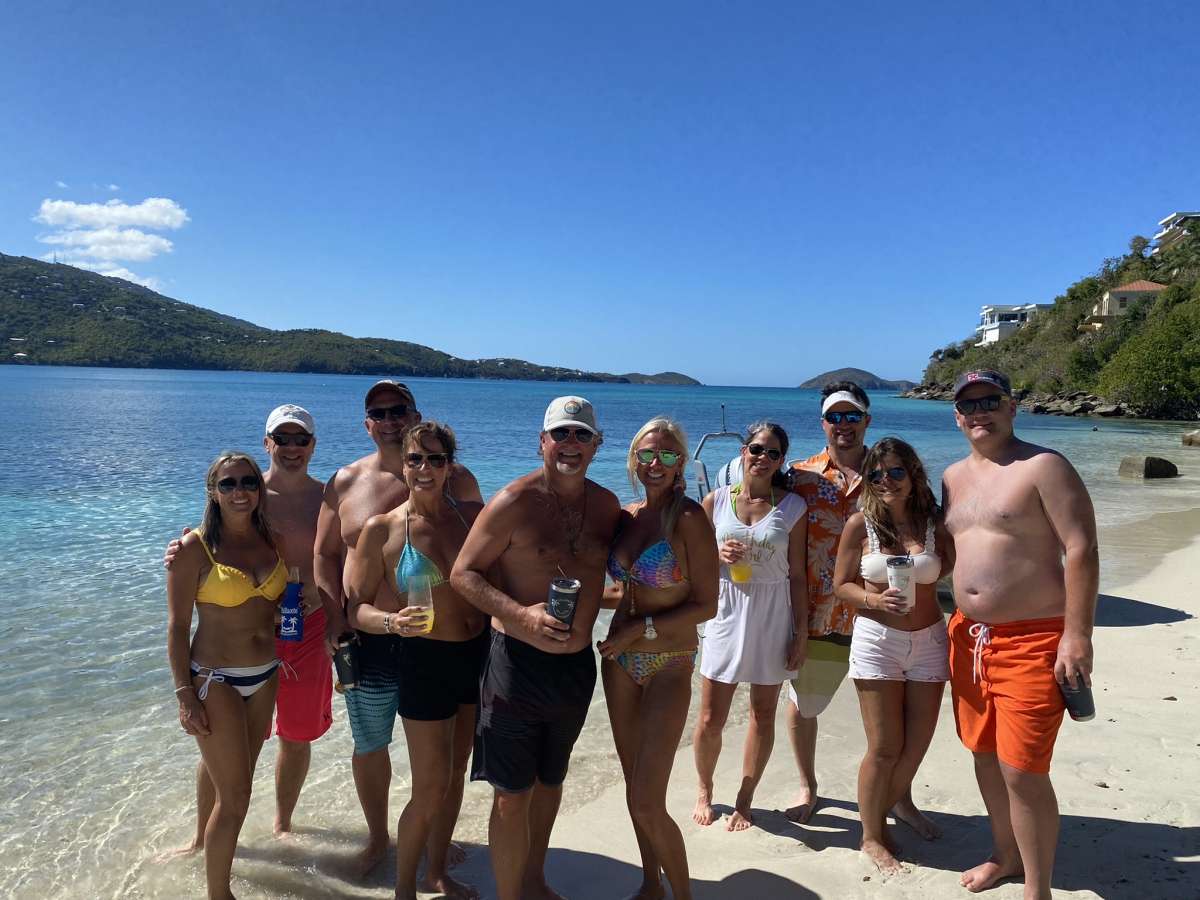 January 2022 BVI Charter
You fit right in with the crowd and hopefully you had as much fun as we did! Wishing you health, love, laughter, and safe travels for the remainder of the season!
Love,
Joenne and Donnie

Thank you, thank you, thank you! Chef Dani rocks and who doesn't love a fellow softball player?! Diver Ryan, great dives and I loved all of the toys (especially the sea bobs)! We had a wonderful time…BEST VACATION EVER!
Love,
Kim and Kingsley

Ryan, Dani, and Christian,
I cannot express what a great week we have had…in large part to our AMAZING crew! To name a few top moments - our "living room" aka the truth pad, the game of the night, snorkeling, Shawn and Donnie "surfing", night swimming, sea bobbing, drink of the day, and dancing to Kimmers wedding song. Thank you for so many memories and for becoming part of our family!

OMG and for the BEST food in all of the USVI and beyond!
Love,
Shawn and Debbie

Ryan, Dani, and Christian,
WOW. What a perfect week! The food was delicious and the variety amazing. We could not pick a favorite because every day it got better. The first night pizza was over the top! Ryan, you aim to please everyone all of the time. Your patience and cool professional demeanor is exactly what every crew needs. Thank you for the best drinks every day! We love the fact that you became one of us. We are grateful that you put out the truth pad, the sea bobs, the e-foil, and boards daily. We feel blessed to have found the BEST OF THE BEST in the BVI's to the USVI's. We will be friends for life. Lastly, thank you for the first perfect dive!
Love,
Joan and Jared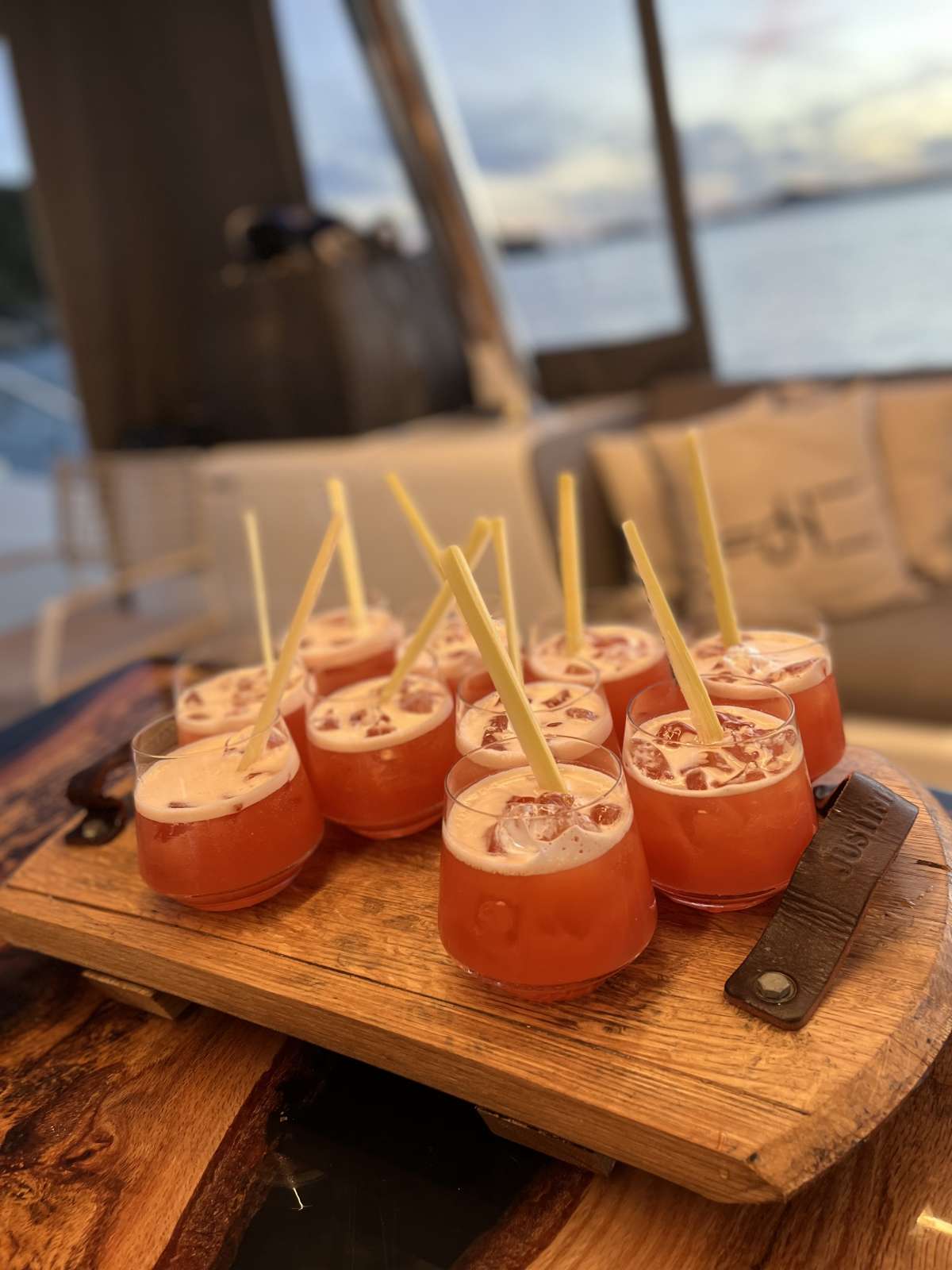 November 2021 USVI Charter
Dear Ryan, Dani, and Christian,
Everything was wonderful – a first rate experience! An amazing charter!
All the best,
Ellen and Roger

To the best crew EVER! We have enjoyed our first time on a catamaran trip immensely. The boat is beautiful and very roomy. Food was spectacular. The three of you have made this the most comfortable, relaxing experience. We will definitely look forward to our next time on Justified Horizons!
Love, Jeff and Donna

To the crew,
Thank you for the most memorable trip! Spectacular on all levels! BEST food of our lives! We can't wait for our next trip on this beautiful boat with all of you!
Love,
Dave and Julie

Dear Dani, Christian, and Ryan,

We can't thank you all enough for the most amazing trip! The food was off the charts! Best salmon, sea bass, shrimp, pork!! The snorkeling, sailing, swimming, and beaches were spectacular. Christians table settings were beautiful. It was a trip of a lifetime with great friends and crew.
Love,
Donna and Kevin

November 2021 USVI Charter
To say we are thankful for the crew is an understatement. Our Thanksgiving aboard Justified Horizons was amazing and beyond our expectations. Our family of 5 (Shane, Kim, Carter, Alyssa and Maya) enjoyed everything this yacht has to offer. Our days spent in the water with the sea scooters were definitely a highlight and the kids spent hours on the floating dock! Those are the memories that will last a lifetime. Chef Dani's cooking will be missed as we head back home. She went so far beyond to make sure all of us enjoyed everything and the kiddos loved the dishes. We could not be more thankful for our family time together and the laughs we had with all the crew.... Especially Christians games before dinner!!!

Love,
The Sizemore Family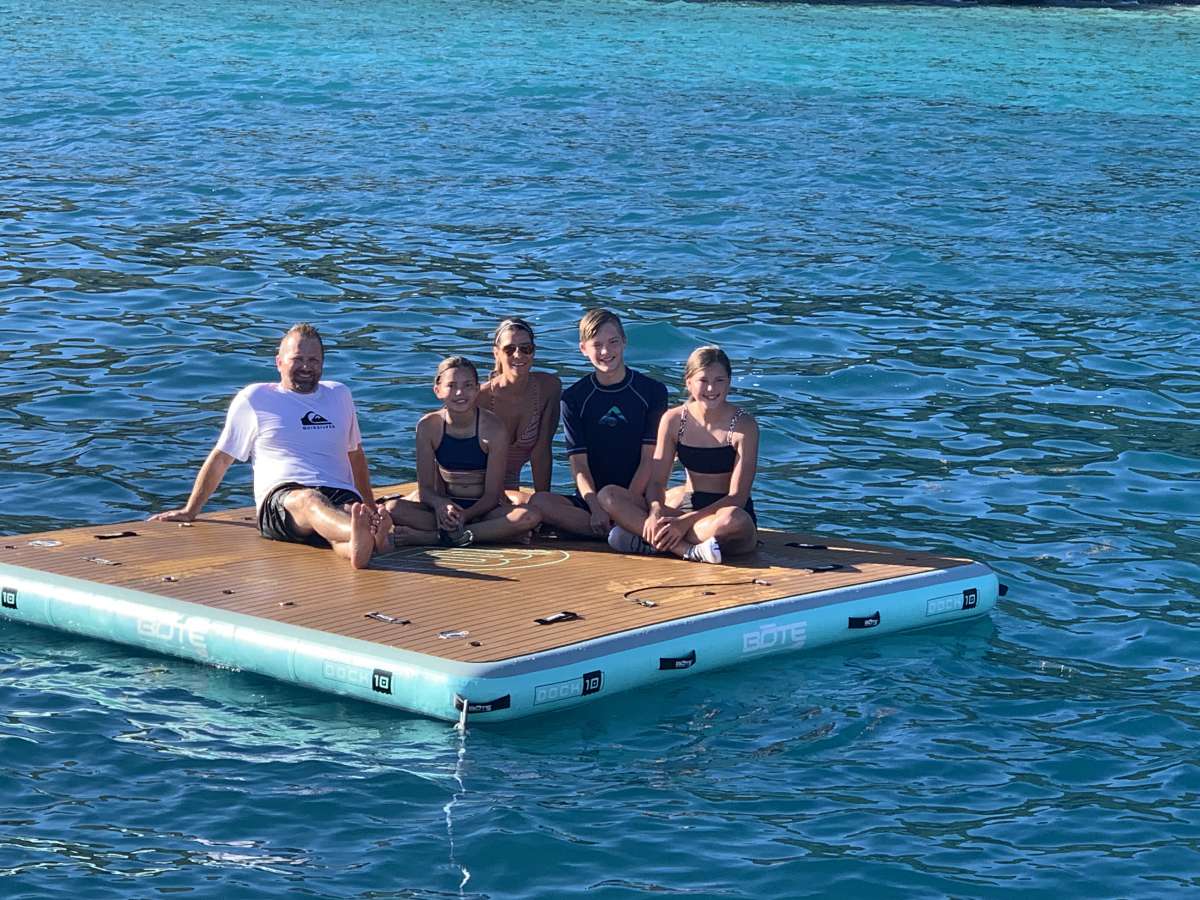 November 2021 BVI Charter
Five nights in paradise aboard Justified Horizons just isn't enough! There are four of us - Nathan(14), Grace (11), plus mom and dad. Toyota brought us here as a group of individuaboats travelling together. Grace's favorite part was visiting The Baths. Nathan lived for riding the efoil and jumping from the Willy T. Mom and Dad enjoyed Jost Van Dyke fun in the sun. Weather was perfect, views were gorgeous, Chef Dani's food was 100% on point, and the crew made this a family favorite adventure. Thank you Captain Ryan, Chef Dani and First Mate Christian for welcoming us into your home.

Wishing you health and happiness,
Lori, Shawn, Nathan and Grace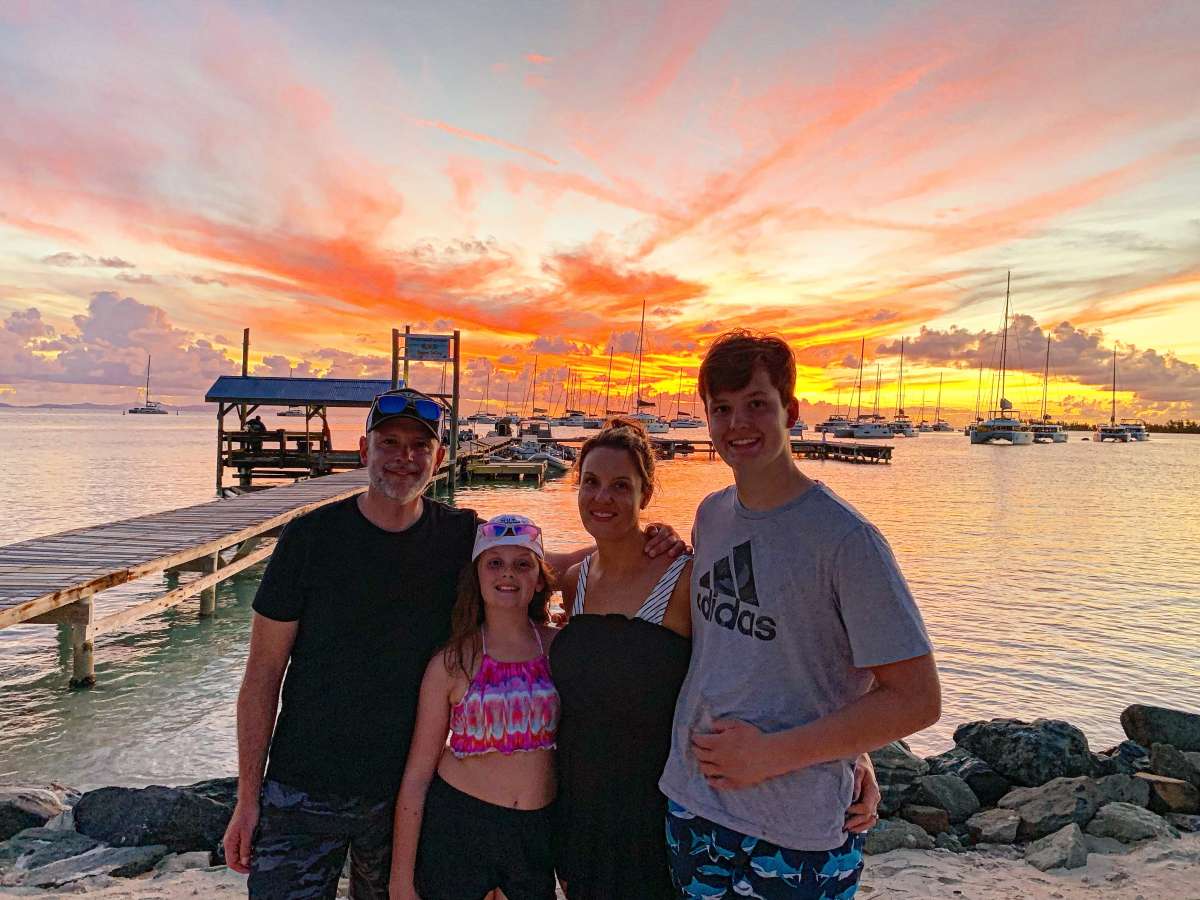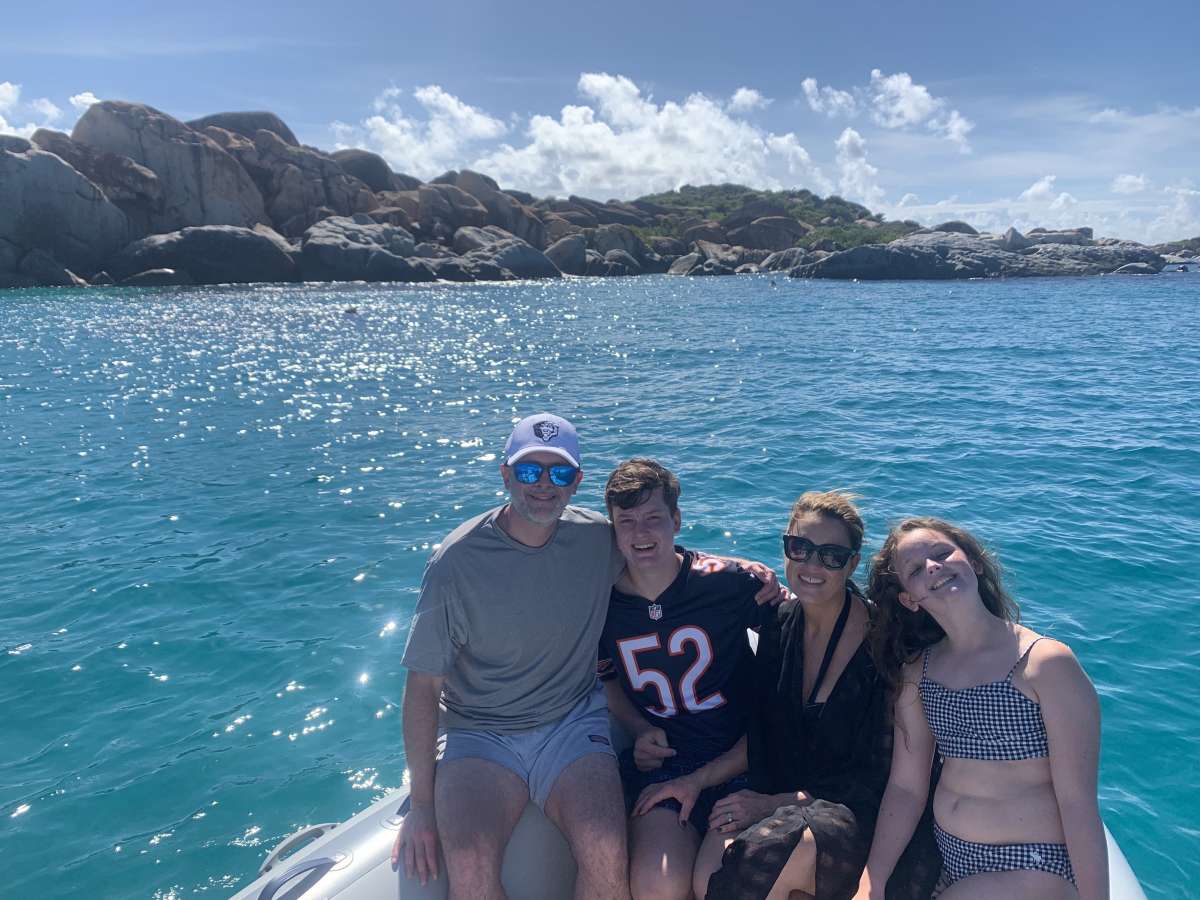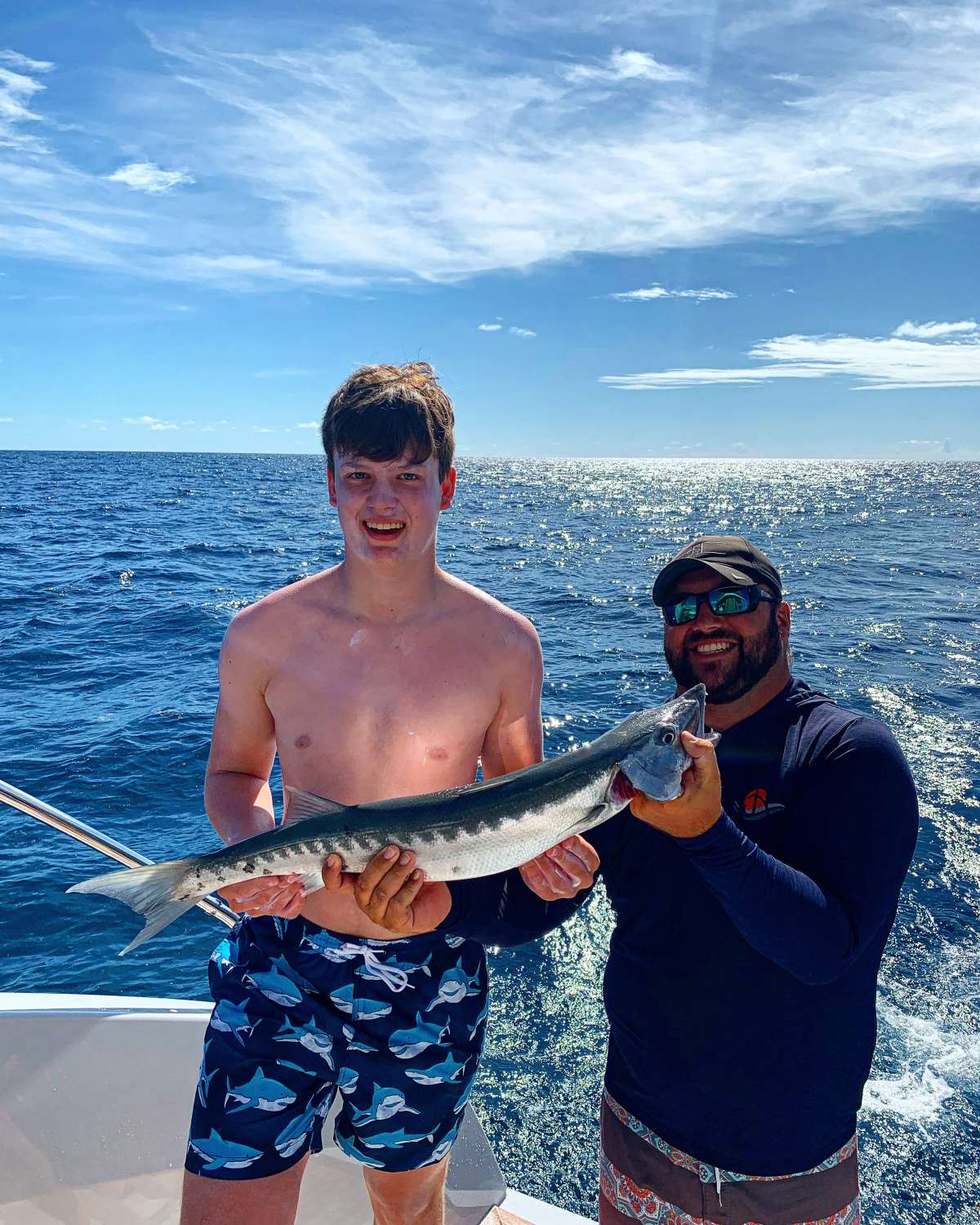 November 2021 USVI Charter
We were treated to a week long St. Thomas and St. John vacation that concludes tomorrow. Wonderful food, fabulous drinks and a plethora of memories after one of the craziest years any of us have experienced. We are, all of us, humbled and honored to have sailed with Captain Ryan, Chef Dani and First Mate Christian on this unforgettable trip.Reconnecting, being able to travel again as our big "found along the way" family has meant the world to us, and we've had an absolute blast here in one of the most beautiful places on earth.

Thank you guys,
Connie's Clan
December 2020 USVI Charter
Dani and Ryan,

Thank you so,so much for an incredible week! I don't even know where to begin with my favorite moments, but I will share a few:

Playing left, right, center
Snorkeling
Dancing the Cha Cha Slide (with our unparalleled dancing skills)
Tubing
Literally every meal

I will never forget any of these moments or any of the other amazing things we saw (especially turtles and sting rays). Your kindness, humor, and patience (looking at you Reed!) really made this week unforgettable! Thank you and hopefully we will see you next year!

~ Scarlett 16

Dani and Ryan,

There are too many amazing experiences and memories to write them in this short time. What I can say is that there is nothing I would rather do as a Dad than spend this time with my kids and you. You made this trip a collection of life long memories. Thank you for being such gracious and enthusiastic hosts for all of us. And special thanks for all of your energy, patience, and joy with Walker and Reed. You two are the best!

~ Chris

Thank you for playing Uno with me and teaching me how to scuba dive. Thank you Dani for cooking all the meals. I hope you keep playing magic,Ryan!

~ Reed 10


New Years 2021 Hollenbeck Family

Dani and Ryan,

Thank you so,so much for an incredible week! I don't even know where to begin with my favorite moments, but I will share a few:

Playing left, right, center
Snorkeling
Dancing the Cha Cha Slide (with our unparalleled dancing skills)
Tubing
Literally every meal

I will never forget any of these moments or any of the other amazing things we saw (especially turtles and sting rays). Your kindness, humor, and patience (looking at you Reed!) really made this week unforgettable! Thank you and hopefully we will see you next year!

~ Scarlett 16

Dani and Ryan,

There are too many amazing experiences and memories to write them in this short time. What I can say is that there is nothing I would rather do as a Dad than spend this time with my kids and you. You made this trip a collection of life long memories. Thank you for being such gracious and enthusiastic hosts for all of us. And special thanks for all of your energy, patience, and joy with Walker and Reed. You two are the best!

~ Chris

Thank you for playing Uno with me and teaching me how to scuba dive. Thank you Dani for cooking all the meals. I hope you keep playing magic,Ryan!

~ Reed 10
February 2020
Ryan and Dani,
Thank you for a wonderful week! The food was amazing and the sights were gorgeous. I really appreciate how kind you both were to me. As I was a nervous sailor, the fact that you took the time to explain everything that was planned and calmed my nerves made the difference between a good and an a amazing week for me. Thanks for not only being a great Captain and Chef but great friends as well!

- Erin

Ryan and Dani,
Thank you for such an AMAZING week! We started as passengers and as the week went on, we became more like family. Your hospitality and kindness were truly appreciated. Dani - you have mad skills in the kitchen! We loved your creative and tasty dishes - and your delicious cocktails! WELL DONE! Thank you, Ryan, for your great commentary throughout the week and always leading us in our off boat excursions. We felt so safe knowing you were in charge! Please look us up if you ever want to visit Minnesota!

- Angie and Brad

Ryan and Dani,
What an adventure! We can't thank you enough for all you both did to make our trip such a memorable, fun, and fabulous week! It was an absolute pleasure getting to know the both of you. Dani, your food is delightful and it was such a treat to be catered to. I can't wait to try some of your recipes at home! Ryan, thank you for helping to lessen my worries of saline, always having our back on shore, and for putting up with me being the last to bed every night. We couldn't be more thankful for the countless hours you both spent making sure everything was just right. Your fun, calm, and welcoming personalities are simply the best! Thank you for making this experience one we will never forget. We hope to see you again!

- Andrea and Sean
February 2020
I never knew that people could be so kind and welcoming but I found out that they could be ever since I met you in that port. You really felt like a part of the family ever since you gave me extra chocolate before bed and giving me the best birthday in my life. If I could say something better than thank you, I definitely would. This was definitely the most amazing trip and people I have ever met! Thank you so much! I am going to miss you forever and I hope one day I can come back. I hope you like my pictures Dani! Thank you so incredible much!

-Elsa (Age 11)

Thank you for the wonderful food and the scuba diving, snorkeling, and dinghy launch. This was a great get away from civilization and you were so friendly. I will never forget this.

- Harry (14)

Ryan and Dani,
I am sure you hear it over and over about how you make the vacation over the top and spoil everyone! It was such a special time for us and our family. There is nothing that tops being with our kids and grandkids and you helped make it very special. Larry would love being here all winter if he could. We had a fantastic time and we will always remember how you made this one of the best vacations. We hope we can come back again sometime to see everyone smile and have the time of their lives. We will always remember you!

- Peggy and Larry

Ryan and Dani,

You were our Captain, our Chef, our tour guide, our cartographer, our activities coordinator, our first aid specialist, our euchre players, our videographers, our dinghy drivers, our bartenders, but most of all you were ever so amazing to our kids. Most important, you made our daughters 11th birthday the most amazing event! You also managed to entertain the family members in their 70's, 50's 40's and teens to make it a vacation that no one will forget. We can't thank you enough for that. You guys are amazing! And we can't thank you enough for it!

Thank you for all of your hospitality this week! You became part of our family and made us feel like we were at home. Our Elsa will never forget her 11th birthday!

Jason and Susan
December 2019
Captain Napkin and Chef Dani,

"So good we did it twice!"

You so spoiled us last year that we survived about 10 weeks before we rebooked! So very happy we did. It didn't disappoint!

Thank you for everything, your adapting to the menu, the daily activities, and the endless cocktail menu. "Can I get you guys anything?" will ring in our ears with happy memories.

Xoxo
Katie and Simon

Guys, it has been an epic experience as expected. It was more than expected to see your alter egos on 80's night! We especially enjoy your ability to cram so many calories into every bite and slurp! And not one empty calorie!

So glad we agreed to Sandras rules for proper cards this year. Shame Ally thrashed us at Blockus every night!

Thank you for looking after us so well, for joining in and making the week extra fabulous.

Oodles of affection,
Josh and Sandy

Whilst I'm sat on the back of the boat with my feet dangling in the water I'm desperately trying to find the words. All I've got and all I've said all week is WOW! WOW AMAZING! And those words do not just apply to the views, the activities, and the company but especially to you two! I've never been so spoiled, ate so much amazing food, and drank so many fabulous cocktails! A "painkiller" will never taste the same. Thank you for making this so epic!

Emma

Thanks again you guys. Another cracking week with you both! So happy Ally and I get to tag along with Mum and Dad and have as much as we do! 80's night rocked! Until next time!

Sam and Ally
November 2019
Captain Ryan and Dani,
Thank you all so much for everything!!! The boat is beautiful, the meals are UNBELIEVABLE....-and we saw places we had never been to before.

Thank you so much for your flexibility, hospitality, culinary skills, and most of all, for the best Hinson Thanksgiving!!!

Xoxo
The Hinson Family
February 2019
The Iowa Eight

Captain Ryan and Dani,

As we sit here on our last morning, the skies of St. John are crying....the VI is sad to see us go!

What we did know about this trip: the sun, the water, the sand, the beauty, the tranquility....you two delivered in spades!

What we didn't expect: the amazingly prepared and served food, the added comforts on every level, the ability to be so relaxed at the hands of such a competent captain, but mostly the hours of laughs with our new friends Ryan and Dani! Ya dun even nah! :)

Using your gifts the way that you do, to make peoples' wildest dreams come true?!?! That is something immeasurable and can't be explained unless you experience it! We so loved including you in our fun and jokes. You will truly be in the hearts of the Iowa Eight forever. You have not seen the last of us!!!!

Love,
Tom, Sandy, Maria,Joel, Beth, Joe, Stacy and Kevin

P.S. When we began to plan this trip we called it a trip of a lifetime. It has been just that! We couldn't have imagined it any better. This may have been the inaugural couples trip for the #iowaeight but it certainly is not the last.

We cannot thank you both enough for the care and professionalism you've shown us this week. We very much appreciate it! Answering our countless questions, laughing with us and not at as! Dani- the food has been INCREDIBLE. Ryan - you know what you are doing with this boat! Thank you for safely getting us to and from so smoothly.

We will certainly be recommending you two and Stop Work Order to everyone we meet as you two are part of our Iowa Eight family now whether you like it or not! Thank you again for an amazingly relaxing and memorable trip!
February 2019
Ryan and Dani,

When we came on this trip we were hopeful to have a crew that would not only provide a great experience but also join in the fun! Fortunately for us, we were here on your birthday week and your participation made our week even that much better! The food, tours, and drinks were spectacular. More than that, we enjoyed "winning our age group" with help from you! You are welcome in our homes any time you are in N.C. and I hope our paths cross again. You have a special spirit about you that makes you naturals at your jobs in the best living room in the world! Thank you so much from all of us!

Ryan and Dani,

What an unbelievable trip for us and our friends. From looking for "flip flops", boutiqing, snorkeling, and simply hanging out with a fabulous crew, thank you! The food and cocktails were out of this world. I will say, the organization and preparation you bring made our trip special, especially the pirate costumes! AAAaaaarrrgggghhhhh!

What an incredible experience! You guys are the consummate hosts! We have never been so spoiled and pampered. Thank you for all you did to make the trip memorable for us - and for helping us win our "age bracket"! We will be back for more banana drinks soon (I've got Fred on camera saying that!). Thanks for putting up with all of us and joining in the fun! We love you guys!!!

P.S. Dani, the food was DELISH
P.S.S. Going home to dry our livers out...

Dani and Ryan,

You guys rock! Such a fun week, great food, and great company. You guys are such a great couple....I absolutely hate goodbyes...and hope you post something every once in a while so we can keep up with you. The adventurous life that you two have created for yourselves on this boat is so amazing. You both have the gifts of making someone feel so comfortable and lord knows you had some challenges with all of our different personalities! If you are ever in N.C., FIND US!!!!
January 2019
Dear Ryan and Dani,

What a fabulous vacation! We are so fortunate to have you as our crew for this family vacation to the BVI's!

From the champagne toast in our matching attire to our fabulous meals every day, we were well served....by the Hank Aaron of cooking and bartending!

We enjoyed the snorkeling, fishing, beach days, paddle boarding, kayaking, soccer on the beach and exploring Anegada by jeep. The scuba and the shell seeking!!!!

Bill was thankful for the doctor you introduced him to at the Anegada Reef Hotel for his much needed pain killers ;)

This relaxing trip is the best way to kick of 2019 for our family! We truly hope that you enjoyed meeting us as much as we enjoyed you and your hospitality!

We are thankful to have seen Anegada! Loblolly Bay....spectacular! Cow Wreck Beach....even more beauty. The LOBSTER!!!!!!!!

Some nice touches: the dolphin to greet us, the gorgeous sunrises and sunsets, the double rainbow at Cooper Island, and your easy going attitudes to cater to our every needs!

Congrats on a super successful trip with the Mastros!

Pat, Lauren, Maria, Zach, Rachel, Alex, Bill, and Beth
May 2018
We are home and back in the groove, doesn't take long for that to happen. We find ourselves drifting back to our days on "Stop Work Order"!!!

Our experience for 6 days is one that is somewhat hard to put into words because was everything and so much more than what we dreamed it would be. We arrived at Red Hook and were greeted by smiles that made us feel like close friends meeting. Boarding Stop Work Order pretty much took our breath away as it sat sparkling in the water and waiting for us was a bottle of "bubbly" chilled and ready to sip as we departed port. The yacht was immaculate and we were shown to our staterooms which we were pleasantly surprised at the amount of room each stateroom had. Ryan and Dani had everything ready for the "kings and queens"!! I say that as that is how we were treated by them. Every detail was in place and for the next six days Dani and Ryan would take us to destinations that we will remember for a lifetime. The food was 10 star quality prepared fresh each day. What Dani puts out of that galley is simply amazing along with the perfect presentation. The four of us were celebrating our wedding anniversaries, so she apparently caught wind of that and made a very special steak dinner with the most delicious chocolate cake including candles, It brought us to tears. They are definitely a team who work well together and care about their guests on board. We came home with two new friends as that is how we all felt while sailing the BVI with Dani and Ryan. They were informative, fun, loving, and showed a passion for their work. It did not go unnoticed by any one of us. We thank you so very much for everything. It will be in our memory forever and we feel blessed to have had this wonderful opportunity with you and your staff. We love Dani and Ryan and hope to see them again.
Thanks for the Memories,
Scott & Mary, Mark & Anita
April 2018
Captain Ryan and Dani,

This has been my favorite spring break trip I have gone on. Doing all of the crazy things such as the dinghy launch and tubing, was super fun! I wish that I could stay on the boat forever. Thank you for an amazing trip. Also, the food was amazing!

Julia - Age 10

Captain Ryan and Dani,

I really had a great time on this trip! Captain Ryan and Dani, you were both awesome crew! The food was great (although I admit I was a little bit picky) and I loved snorkeling, tubing, the dinghy launch, etc. I hope that one day I will get to visit the beautiful islands again. Thank you both so much!

Collin- Age 13

Ryan and Dani,

Thank you hardly seems enough when I think back on all of the precious memories of the past week. Snorkeling, dinghy launching - letting my boys see that their mom is not past her prime! The true smiles that I saw on my boys' faces this week made my heart full! And speaking of full......I have never feasted as I did this week. Dani, you are an amazing chef - all of my boys tried new things and discovered they can be a bit adventurous. Thank you and we hope to see you again!

Leslie

Ryan and Dani,

They say that a journey of a thousand miles begins with a single foot step....
Our journey began with a warm welcome from a great couple. You made the last seven days truly remarkable for us as first time visitors. This is the vacation that our kids will be telling their kids about some day. Thank you for helping make great memories for our family!

The Wagners

Captain Ryan and Dani,

Thank you so much for a great trip! I had so much fun! I loved everything that we did, The snorkeling was awesome, I saw so many cool fish and coral. My favorite one was when we saw the sunken ship, I thought that was really cool! Thank you Captain Ryan for taking us tubing and water skiing, it was a blast! Thank you Dani for making delicious food, my favorite was the shrimp pasta and the mango cobbler. I will remember this trip forever and I am sad that it is over but I want to visit again! Thank you for an amazing vacation!

Caroline - Age 15

Ryan and Dani,

Thank you for a fabulous and relaxing week aboard SWO! After years of thinking of a trip to the BVI and months of planning, the last seven days has truly exceeded all expectations. Both of you went out of your way to ensure that every day was a great day. We appreciate all of your hard work and your hospitality. We will fondly remember this week for the rest of our lives and will always have great stories to tell. Thank you for helping us make such spectacular memories!

Wyatt and Elizabeth
March 2018
Ryan and Dani,

Thank you for making your home, our home! Our crazy Minnesotan family is alot to deal with and you guys held your own. This trip may be done but already looking back, you guys were the best part! My family and I will cherish these memories!

-Destiny


Dani and Ryan,

Thank you for making our vacation an absolute blast! Thank you for training me to scuba dive and taking us on 3 more dives to explore the sea, Thank you for taking me on the dinghy to get tanks filled. I loved riding the waves and getting wet! Most importantly, thank you for making us fantastic meals, you didn't disappoint once!

The best crew ever!

- Jake


Dani and Ryan,

Thank you for taking us and teaching us about one of the most beautiful places on earth with the Gatorade colored water and showing us the beauty of the deep. The sea turtle eating was one of the coolest things I have ever seen! The cooking on this trip was the best I have ever had and opened my eyes to so many different foods. Most importantly, I will remember the nights spent playing cards, dice, and telling stories around the table.

-Ethan


Dear Ryan and Dani,

Thank you for everything you did for me and my family!

To Dani:Your cooking is out of this world. The only complaint I have is that I didn't have a bigger stomach to eat more of it! I also loved all of your sassiness!

To Ryan: I could not have asked for a better scuba instructor. You told me that you would find me a sea turtle and man did you deliver!!!

I will miss you both and hope I can be worthy enough to become Facebook friends with :)

-Serenity


To our newest members of our family:

Thank you for spoiling us this week! We had a great time enjoying this piece of heaven with you. My true test of a great vacation is how often I log in to work. I did not check my phone once so this was an amazing week! So much fun scuba diving as a family (after Ryan settled Steve and I down). Watching a sea turtle eat grass in front of us will never be forgotten. Dani's skills in the kitchen will be severely missed. We are looking forward to trying some the recipes!. I will practice my corn hole skills for our next trip!

I know we can be a lot to handle...you made us feel right at home.

-Diane

Dani and Ryan,

We planned this trip to make lifelong memories for our family. From certifying the kids, dinghy launching, eating with a pirate, scuba diving, enjoying beach days, playing cards and dice, drinking on the boat while sailing, to simply floating on the lazy buns, each day was filled with so many memories. Dani's cooking was so fantastic! I have never eaten so many different and wonderful meals and desserts! Watching our kids try new things and enjoy them was real treat! Captain Ryan was so great with the kids certifications and calming us old timers down. We will never forget either one of you or our wonderful trip. Thank you from the bottom of my heart!

- Steve
March 2018
Ryan and Dani,

What an amazing trip! I can't thank ya'll enough for the awesome memories we made.

The food was absolutely some of the best that we have ever had and I can't wait to try out some of the recipes at home!

Ya'll truly have a gift and we are so lucky to have gotten you as our Captain and Chef! We can't wait to come back and spend another week or more with you!

Thanks again for EVERYTHING! Ya'll are awesome!

Andrea Fite
February 2018
Dearest Ryan and Dani,

Thank you so much for the unforgettable trip! You have given the best possible 50th birthday anyone could hope for.

The meals were AMAZING!!!

Every day we were shown something new, which was thanks to your intimate knowledge.

Absolute perfection!

Lots of love,
Karen, Josie, Mark, Ellie, Paddy, and Kate

XOXOXOXO
January 2018
Dani & Ryan

What a wonderful week you've shown us all. Everyday was special, the memories we have gathered will last forever. The scenery of course is magnificent. The snorkeling was unforgettable. The cruising through the waters was perfect.

Our captain, our chef we sing praises to you. Food, drinks whenever we wanted!!! Dani, your cooking skills are phenomenal. Ryan, best captain ever.

Every day, every cove so memorable. Thank you so much for the hospitality!! We will remember this week forever!! You two definitely know how to be the perfect host & hostess!!

Eva, Chris, Cynthia, Meghan, Amanda, Emma and Erin
December 2017
Dear Captain Ryan & Dani

Thank you, thank you, thank you!!!

We come every year to re-visit what we love, to relax and to see and old friend (The BVI's) with new eyes. After Hurricane Irma and Maria, we were not sure what to expect. You both made our Xmas week phenomenal! Your care, sweetness, guidance and suggestions made us feel at home while also on a trip of a lifetime. The boat is fabulous, but it's the crew that makes our memories and makes us want to return. The two of you have amplified the magic of these island in a very very special way for all of us.

From the guided dives to the gently directed snorkels (Hey Connie, the boat is over here.) to trolling for fish (did we really catch the same fish two days in a row!) to not rolling your eyes at our obsession with dry towels, you created a wonderful home for us to totally relax. We will now play 3's and paddleboard thanks to you. Our nights of playing cards will bring us a smile every time we think of them.

And oh my, Dani your cooking was incredible!!! We gobbled up all those American portions, even past the point of feeling full because it was all so delicious! WE will take home many recipes, but they wont taste as good as when you've made them for us. Even with all the swims and snorkels, we are taking home a few extra pounds as souvenirs!

In this very special year, after this devastating hurricane to these beautiful islands, you have inspired us and have shared an incredible wonderful memorable Christmas with us. Our hearts are full from spending our week with you. Hope to do this again!!!!

Connie, Miles, Jason Wilkin, Ron Ledger and Andy

December 2017
Captain Ryan and Admiral Dani,

Thank you so much for making a lifetime dream of mine so memorable. This trip was part of a 20 year wedding anniversary for my wife and I. We have planned it for over a year, researched the internet, and read extensive reviews. Your reviews sealed the deal for us to book our trip with you. It was also a bonus to have our dive instructor as our captain. You both exceeded our expectations. We were blown away with your outstanding customer service, outstanding meals, and the yes boat attitude!

We felt that we were leaving our friends on the boat as we disembarked our charter.

I would rate our entire experience as 5+ star review.

Our trip included 4 couples who have been life long friends, we now have life long memories and feel blessed to have been on your boat.

Your expertise and and experience have set the bar very high for our future vacations!

We hope to see you again some day and give Stop Work Order the highest recommendation possible.

Thank you for all of the fabulous meals and the amazing dives, the endless drinks and cocktails.

Thanks for letting me jam out and get crazy! The food was truly the beset ever! Thanks for everything!

You guys ROCK!,
Dr. Alvin and Kathie