CREW PROFILES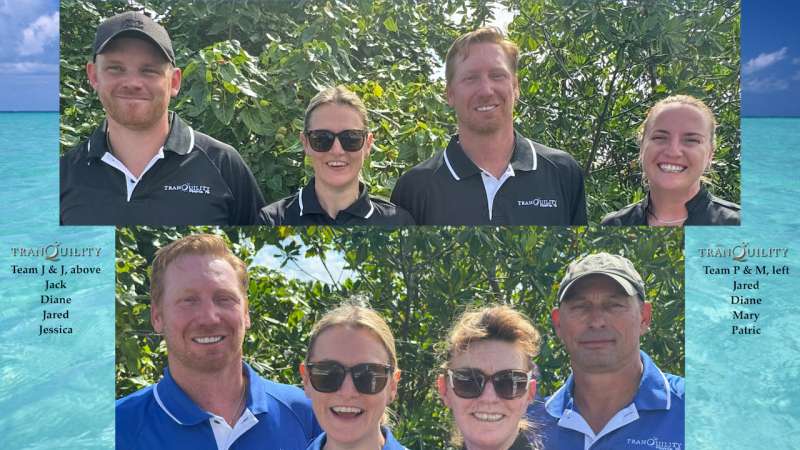 Title
Name
Nation
Born
Licenses
Captain
Patric Guyez
Swiss
1978
RYA
Chef/Mate
Mary Haddow
UK
1983
Number of Crew: 4
Languages: English German French Romanian
Crew Profiles:
Patric and Mary and their crew-

Patric and Mary have been sailing together for nearly 10 years and in that time have delighted and charmed their guests in over 150 charters over 55 000 miles with a holiday of a life time.

Now aboard the paradise "Tranquility" they are continuing to do just that throughout the Caribbean.

Captain Patric GUYAZ / Swiss
Born in Switzerland Patric has travelled extensively following his love of sailing and diving.
As RYA Yacht Master he has sailed in many of our seas. In Europe, the Caribbean and also Australia where he was able to fulfill his love of off shore racing.
As a Dive Instructor Patric has taught and dived in some of the best locations in the world, including the Great Barrier Reef, the Red Sea, Maldives and also South Africa where he met Mary up by the Mozambique boarder.
In the BVI he spent 3 years teaching Sailing and Diving to youngsters within a summer camp program before moving on to Crewed Yacht Charters with Mary 10 years ago.
A great sense of humor, coupled with a professional and open and relaxed manner will make you feel special, safe and at home the moment you, your family and friends step aboard Tranquility.
There is no request to big "except the one regarding the elephant" and no cocktail too bizarre that Patric cannot cater to.

Chef Hostess Mary HADDOW / British
Mary was born in the UK and worked in the film business before giving up the camera for a cooker.
Having had the opportunity to travel the world, from Europe to Australia, Africa to India and the USA to the Caribbean she has had the chance to sample many of the world's cuisines.
She takes great delight in sharing these flavors with you. Quality of produce remains the mainstay of her cooking and she will tailor any menus to suit you and your family's requirements.
Also a qualified Dive Master she is happy to paddle about with you in the water, lunches permitting.
Flexible with a lively sense of humor and a kind heart, her aim is to make your stay as seamless and comfortable as possible.

Where holidays are precious we will give you memories to last a life time.

Patric and Mary are joined by by a stewardess and mate:
Stewardess Emily Slaney -
Emily's passion for hospitality and serving industry has grown from the start of her career having worked in a small cafe to assisting highly professional chefs on luxurious charter yachts. The love of being on the sea is the best job motivator for her. Her friendly and attentive approach towards the needs of charter guests creates a warm and welcoming atmosphere on board.

Mate Georgiana Stoica has been sailing the waters of the Caribbean for five years, both as chef/mate and deckhand on a variety of charter catamarans. She had previously been a chef and caterer in Romania, where she also owned a B&B.