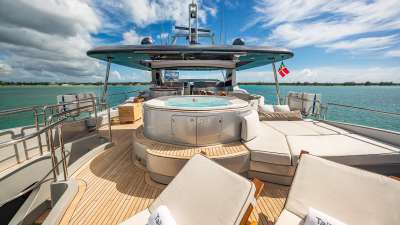 Availability
| Start Date | End Date | Details |
| --- | --- | --- |
| Jun 24, 2020 | Jul 09, 2020 | Unavailable: Miami, Florida* to Miami, Florida* |
| Jul 12, 2020 | Jul 19, 2020 | Booked: Bahamas - Nassau to Bahamas - Nassau |
| Jul 24, 2020 | Jul 31, 2020 | Booked: Nassau, Bahamas* to Nassau, Bahamas* |
| Aug 06, 2020 | Aug 13, 2020 | Booked: Nassau, Bahamas* to Nassau, Bahamas* |
| Nov 07, 2020 | Nov 14, 2020 | Booked: Saint Maarten, West Indies* to Saint Maarten, West Indies* |
| Dec 20, 2020 | Dec 27, 2020 | Booked: St Thomas, USVI* to St Thomas, USVI* |
| Dec 30, 2020 | Jan 06, 2021 | Booked: St Martin to St Martin |
| Mar 20, 2021 | Mar 28, 2021 | Booked: St Thomas, USVI* to St Thomas, USVI* |
Rates
High Rate: 85000.00 USD per week
Low Rate: 75000.00 USD per week
MCA Compliant: N/A
Rates are Plus Expenses

Additional Rate Details:
Summer 2020- $75,000 p/w plus expenses.
Winter - 2020/ 2021 $75,000 low, $85,000 high p/w, plus expenses.
Delivery Fee may apply please inquire.

AYCA Demise in US Waters
MYBA - Bahamas and Caribbean
Please note that Hurricane Season is June - November, and contracts during this time will require a Hurricane Addendum addressed by all parties.
Summer Base Port: Nassau, Bahamas
Summer Operating Area: Bahamas, Florida
Winter Base Port: St. Thomas
Winter Operating Area: Caribbean Virgin Islands, Caribbean Leewards, Caribbean Windwards
Location Details:
June - October 2020 - Florida & Bahamas
November 2020 - April 2021 - Caribbean - St. Thomas and St. Maarten

All rates are for the entire yacht and are subject to change without notice prior to actual reservation. An additional premium maybe applied for Holiday Periods such as Christmas and New Year.